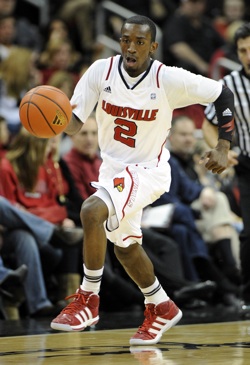 Louisville was struggling mightily in the second half against Charleston on Tuesday night, at both ends of the floor.
Then Russ Smith happened.
The sophomore guard had 10 points and four steals in the final 14 minutes to help the Cardinals overcome an eight-point deficit and beat Charleston by seven.
He was the catalyst for Louisville turning up its defensive pressure down the stretch, using his quick hands and nose for the ball to create havoc on the defensive end. Smith made life miserable for Charleston's guards, forcing other players to bring the ball up the court and initiate the offense – part of the reason the Cougars finished with 22 turnovers.
"He provides an energy that we need late in games," Kyle Kuric told reporters after the game. "Especially when we're trying to pick up our intensity and press."
Offensively, Smith has the ability to play both guard positions, but is at his best when chaos is happening. He loves to knock down transition 3-pointers and is also very athletic around the rim. Smith does have a tendency to take some ill-advised shots at times, but it's the highlights that transformed the Cardinals late in the game.
"You have to live with the occasional bad shot with him," head coach Rick Pitino told reporters. "You have to live with the occasional, I don't know, you just have to live with him because he's so good and so talented."
On the season, Smith is averaging 9.3 points and 2.5 steals off the bench, but he's played an increasingly bigger role in the past few games. When the Cardinals need him, he's stepped up. Against Long Beach State, Smith had 11 points and four assists. Smith finished with 24 points and seven steals against Memphis, and then there was last night's performance.
Smith is the perfect asset for Pitino as a sixth man. He makes plays on defense and knocks down 3-pointers at the other end. He's terrific in transition and provides high energy at all times.
With all the injuries Louisville has had – and Peyton Siva still suffering from a bone bruise in his ankle – expect Smith to play a bigger role as the season progresses.
Photo: US Presswire