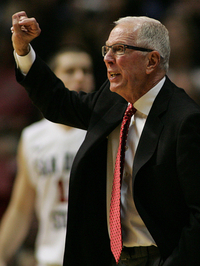 Posted by Eric Angevine

Can Steve Fisher even win the Golden Globe, let alone the Oscar?
Let me backtrack a little and share my thought process here.
You know how the Golden Globe awards are usually like a smaller version of the Academy Awards every season? How winners at the GGs become odds-on favorites to garner little gold men for their trophy shelves?
In the next few weeks, we'll be looking at league Coach of the Year awards in that light. Some of the top coaches in the country will be honored by their conferences, putting themselves on the short list for National Coach of the Year.
On Monday, Mark Zeigler of the San Diego Union-Tribune noted that Steve Fisher is getting some buzz for that NCOY honor. He also pointed out how absurd it is that a man with a national championship ring has never won a league COY award anywhere.
Fisher never was Big Ten Coach of the Year in eight-plus seasons at Michigan, where he had only one losing record in conference.

The snub is even more pronounced in the 12-year-old Mountain West Conference, where the Coach of the Year has won either the regular season or MWC Tournament title every year except one. That was 2006, when Fisher's Aztecs won both the regular season and tournament. And BYU's Dave Rose was Coach of the Year.
Ah, Dave Rose. If there's one man standing in the way of Fisher finally getting his due, it's Dave Rose. The BYU coach has already taken one-half of the season series, and may get the award simply for being smart enough to sign Jimmer Fredette in the first place, and then handing him the ball and getting out of the way. That's a ridiculous underselling of Dave Rose, of course, but there's little doubt he's got a little more glamor in his program right now.

The home rematch with the Cougars is scheduled for February 28th, but Rose and Fisher could very well do battle once more in the MWC tourney. After that, Fisher will lose Rose to the WCC and Utah's Jim Boylen to the Pac-10. He'll still have Steve Alford and Lon Kruger as worthy opponents, but you'd have to think that beating Rose out this season would have a little extra savor to it.

National Coach of the Year is a long shot, unless the Aztecs make good on their in-season promise and roll through the postseason as well. But MWC COY? Steve Fisher is in the driver's seat for that one right now.