Posted by Eric Angevine

Some takeaways from the evening's action:
Michigan State is officially done for:
There's no cosmetic coverup for a 20 point loss to Iowa.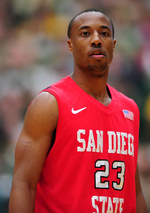 D.J. Gay (right) is underrated:
San Diego State was in trouble in tonight's roadie at lean and hungry Colorado State. With 1.8 seconds left in a tie game, the senior drilled a shot just inside the arc, then stole the ball from the home team with .1 seconds left to salt away a 56-54 victory for the No. 7 team in the country. Prior to the game-winner, Gay was 2-8 from the floor. That's confidence, baby. We hear a lot about Steve Fisher's frontcourt, but Gay could very well be the X factor in the postseason.
Mississippi State's ugly season just won't go away:
Thanks to Clarion-Ledger beat writer
Brandon Marcello's twitter feed
, MSU Bulldog fans know exactly what Ravern Johnson and Renardo Sidney are thinking - and it's not flattering. Marcello re-tweeted Johnson's musings on the righteousness of transferring and another about lagging fan support before reporting that the feed had been abruptly deleted. Sidney's tweet also showed open irritation with fans. It's normal to be sensitive to criticism, but does either player really feel that fans of the program are wrong to feel sick about the way this season has gone?
Jimmer is human:
Insofar as your average human could score 26 points in a DI basketball game and call it an off night, that is. The Cougs weathered Wyoming's near-perfect storm due to Brandon Davies' 20 points and 9 rebounds, as well as decent supporting appearances by Jackson Emery and Noah Hartsock. Bad news, future BYU opponents - you can contain the Jimmer, but he's not a one-man show.
The Spectrum is on my list:
There are so many great venues in college basketball, but we so rarely get to see Utah State's home crowd in action. Cameras have captured the atmosphere in the Aggies' home building before and during games like tonight's TV nightcap with visiting Nevada, but it really seems like a 'you had to be there' kind of place. I'm still working on getting that western hoops blogging tour pre-approved by Accounting. Commence holding breath.... now.