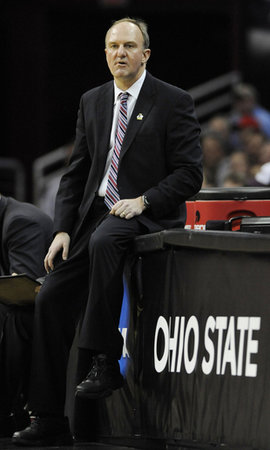 Posted by Matt Norlander
Not only can't they all be great, most of them are doomed not to be.
When you've got 32 games on Thursday and Friday, the odds off getting more than five or six of those to be a combination of double-digit upsets and/or last-second buzzer-beating finishes aren't high. So, after a satisfying — if also sputtering — Thursday session, Friday wasn't that great.
In fact, I'm being nice: Friday was sub-par and somewhat brutal to sit through, which I did from the comfort of my uncle's couch out here in Denver. I debated taking a jog through the Rockies just to dodge the brutal ball all over the four channels providing tournament coverage.
Overall, the odds played out like they normally do, though. We had George Mason and Villanova playing out an 8-9 game as
we wish they all could be played
out, and
Arizona-Memphis brought us some drama
and controversy. Washington, as its wont to do, made things suspect near the end of its game with No. 10 Georgia, but it did get out of Charlotte with
a three-point win.
The only other game worth listing under the somewhat-worthwhile category from Friday is Texas-Oakland, and even though that ended up being
a four-point spread,
it didn't even feel all that urgent.
Outside of that: forgettable stuff. The average difference between winner and loser on Friday: 15.4 points. Now, part of that had to do with three one seeds being involved. And if you need more evidence of how inept the opening two days were as a whole,
look at this stat.
How about the Chicago pod: Notre Dame kills Akron; Purdue takes St. Peter's behind a woodshed; Florida State makes us forget Texas A&M even had a basketball team this season; and VCU — one of two true upsets, albeit boring ones, Friday — ended Georgetown's 2011 campaign the way No. 14 Ohio did to the Hoyas in 2010.
The point here isn't to lament the slow grind. It's to praise the good days and great games, however seldom they may come in March. We always want the majority of the games to keep us sweating and screaming, but it's never been that way. There's a reason why you can only pick out in your mind 25 or 30 games in tournament history.
We were so eager to make this Thurday even better than last year's first day. Do you
remember how good last year's opening day
was? The 2011 version couldn't touch it. And that's perfectly fine.
Me? I'm just happy we've got two more days and 16 more chances to get to see thrilling basketball. Then a few more after that in the next, final two weekends.
Oh, and
I'm also happy to report I'm leading the charge in the CBSSports.com picks
department. Look at Doyel just chewing on my dust. I'll enjoy that carpet ride while I can; it's sure to end by Sunday night, good games or not.