Texas-Arlington went into the weekend's season finale gunning to finish the Southland's regular season unbeaten, but Texas-San Antonio had other plans, handing UTA its first loss of the campaign. Will that open the door in the tournament, or is UTA still the favorite?
Texas-Arlington has lost just two games since December 20, road games at Weber State and Texas-San Antonio. The Mavericks love to play up-tempo basketball, forcing turnovers at a very high rate and playing an aggressive brand of attacking basketball. They are long and quick, with multiple offensive options. LaMarcus Reed can fill it up from the perimeter, while Bo Ingram and Kevin Butler also need to be stopped.
Stephen F. Austin won its last five games to end the season, and is the perfect foil to Texas-Arlington. The Lumberjacks control the tempo, preferring a halfcourt game and a slow pace. They play some of the best defense in the league, dominating the glass and contesting everything inside the arc. Big man Jereal Scott is difficult to handle in the paint.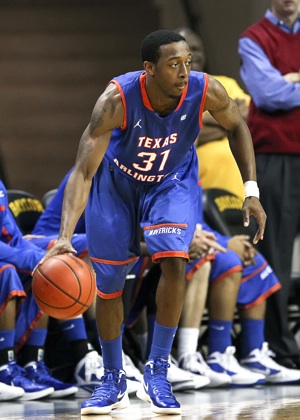 LaMarcus Reed and UT-Arlington have lost just twice since mid-December. (US Presswire)
Lamar has one of the best trios in the conference, with Mike James, Anthony Miles and Devon Lamb leading the way. Offensively, the Cardinals are explosive, but when the perimeter players go cold, they are in trouble. Their ceiling is high, though. Despite having the league's best scorer, McNeese State has lost four in a row.
A team to watch could be Texas-San Antonio, the only team to beat UT-Arlington this season. The Roadrunners play a 1-1-3 trapping zone for 40 minutes, which is difficult for the faster teams to play against. They also shoot nearly 40 percent from 3-point range, and have plenty of size and scorers.
With only eight teams making the tournament, it's going to be ultra-competitive. Can UT-Arlington survive?
****
Title game: Saturday, March 10 on ESPN2 (3:00 p.m., ET)
BEST PLAYERS
Patrick Richard, McNeese State
William Mosley, Northwestern State
LaMarcus Reed III, UT-Arlington
Mike James, Lamar
Jereal Scott, Stephen F. Austin
Conference RPI: 28
KenPom.com rating: 28
Sagarin rating: 27
NCAA Tournament Locks: None
NCAA Tournament Bubble Teams: None
Last NCAA Tournament Appearances
Lamar Cardinals: 2000, No. 16 seed, lost to Duke 82-55 in the first round.
McNeese State Cowboys: 2002, No. 14 seed, lost to Mississippi State 70-58 in the first round.
Nicholls State Colonels: 1998, No. 16 seed, lost to Arizona 99-60 in the first round.
Northwestern State Demons: 2006, No. 14 seed, beat Iowa 64-63 in the first round, followed by a 67-54 loss to West Virginia in the second round.
Sam Houston State Bearkats: 2010, No. 14 seed, lost to Baylor 68-59 in the first round.
Stephen F. Austin Lumberjacks: 2009, No. 14 seed, lost to Syracuse 59-44 in the first round.
Texas-Arlington Mavericks: 2008, No. 16 seed, lost to Memphis 87-63 in the first round.
Texas-San Antonio Roadrunners: 2011, No. 16 seed, beat Alabama State 70-61 in the opening round, followed by a 75-46 loss to Ohio State in the first round.
- Jeff Borzello