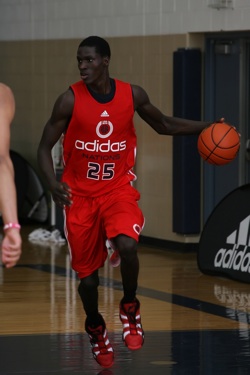 By Jeff Borzello
Wannah Bail certainly has the name of a basketball player. Extremely long and athletic, Bail also has the build and body of a highly-touted prospect.
This summer, however, Bail felt he didn't get a chance to show his full host of talents due to a toe injury.
"Not my best, especially coming off injury," he said. "I had always felt as if I could have done something better, even after giving it my all."
When healthy, Bail has the physical tools to be a dominant performer. Ranked No. 68 in the CBSSports.com Top 100, the 6-foot-7 power forward runs the floor extremely well and uses his strength to make plays at both ends of the court. He can get solid position for offensive post-ups, and he is a very good shot-blocker and rebounder. If he refines his offensive game, Bail could be a stud.
Bail, a native of the Bahamas, is now enrolled at Lamar Consolidated (Texas) after bouncing around a few high schools in the Lonestar State last year. His recruitment will also begin to sort itself out with coaches finally able to track him during the school season.
"It's going good," Bail said of his recruitment. "I'm really enjoying it."
For now, Bail is hearing from Auburn, St. John's, Houston, Texas Tech, Florida State, Maryland, Kansas, South Florida, Indiana, Texas A&M, Baylor, Washington State and others. All besides Kansas have offered.
Bail plans to take his recruitment slowly, but did take a visit to Houston on Saturday, when the Cougars beat UCLA in the football season opener. Michael Carey and Chicken Knowles also joined him on campus.
Don't look for a decision soon.
"I have no favorites," he said.
Photo: Adidas Nations