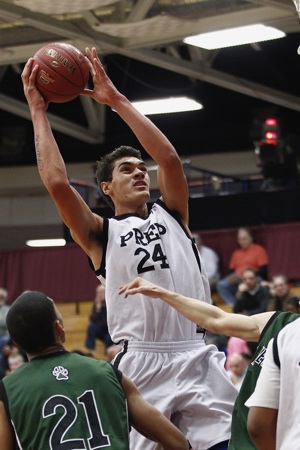 SPRINGFIELD, Mass. – Of all the top players at the Hoophall Classic over the weekend, the one player everyone wanted to see was Pittsburgh signee Steven Adams.
A 7-footer from New Zealand, Adams had only played basketball on U.S. soil a couple of times – and the reviews were outstanding. Many had him pegged as a top-five player in the class of 2012 and a future lottery pick.
On Sunday night, Adams went against New Hampton Prep and was, well, underwhelming. He only played five minutes in the first half after getting hit in the head, and finished with five points, four rebounds and three blocks in 21 minutes.
"It was a bad setting," said DraftExpress.com's Jonathan Givony, who had seen Adams prior to the weekend. "He got off the plane about a week ago, he's out of shape and he hasn't really played in six months."
Adams has dominated at Adidas Nations the past two years and also put up 23 points and 14 rebounds against Nerlens Noel, the No. 2 prospect in 2013, on Saturday. Those sorts of performances only heightened the hype for his arrival at Blake Arena.
"It was nothing I was used to," Adams told reporters of the crowd and environment. "It was pretty scary."
"He was very, very nervous," Givony said. "He's never played in an atmosphere like this, never played in an organized setting. The best competition he could find was going against 5-foot-11 guys in New Zealand."
Adams did show flashes of his potential, though. He is very good on the defensive end, with a nose for the ball. Adams was active on the offensive glass, getting two baskets off of putbacks. He moves well and demonstrated some athleticism – although he also seemed stiff on other plays. Moreover, he didn't seem like he had a ton of post moves in his repertoire, leading Givony to say that Adams needs guards around him who can create shots and open looks around the rim for him.
This is the last thing Pittsburgh fans want to hear, especially after a seven-game losing streak and an 0-6 start in Big East play, but Adams will not be a savior next season.
"People need to temper their expectations of him," Givony said. "He'll be a 15-20-minute per game type of player. People expect him to come in and be a Jared Sullinger or an Anthony Davis. That's not him."
While Adams still might end up as a top-five pick due to his ceiling, it might be a couple of years before we see that on a consistent basis.
Photo: Adidas