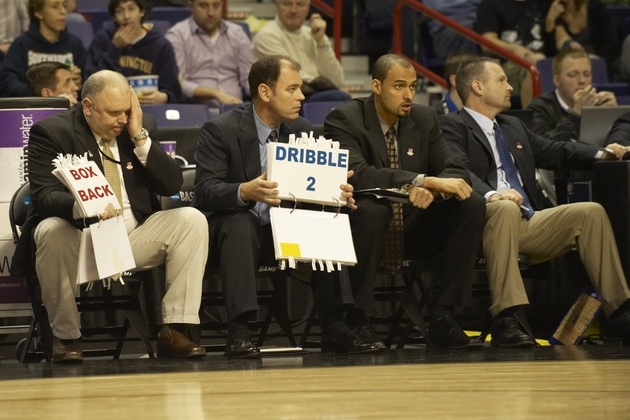 Posted by Eric Angevine


Fans of college football went wild for Oregon this season. The Ducks played fast on the gridiron, in part because of a visually arresting play-calling style that allowed the coach to signal in plays from the sideline quickly. In Eugene, it was huge pieces of posterboard with seemingly random images, big enough to be seen from yards away.
Visual play calling on that scale was a relatively new thing to college football, but college hoops coaches have used flash cards for years. Utah State's Stew Morrill, for instance, has a sophisticated system of play calling that dates all the way back to his time as an assistant at Montana, where he worked with current Cal coach Mike Montgomery in a system they learned from the legendary Jud Heathcote.
"
I think the origination of calling plays with cards goes back to those guys," Morril said. "It's always been what I've been comfortable with. I like knowing what my team's running and being able to change it."

The system has had to evolve, of course. The simplistic version Morrill ran years ago was cracked over time.

"We went to two sets of cards a number of years ago. Actually, way back when I was at Colorado State, we had the student body at BYU chanting out our calls to their players," Morrill said with a chuckle.

After that, Morrill had his artistically talented son, who was around 13 at the time, add illustrations to change the interpretation of each card before he adopted the two-card system. The images only lasted that one year, but changes kept coming. The longer he coaches, the more complex the system becomes.

"Now we have color coded cards and we can use the red, we can use the blue. We can also designate it by which assistant is holding the cards," Morrill said. "Our plays can be called three different ways. We have a play called 'dribble'. We can just verbalize it, say 'dribble', we can hold up the card, and the third way we can use is a hand signal. It's a little more sophisticated than people might think."

Morrill's team has led the nation in field goal percentage three of the past seven years. He credits the play-calling system for giving him flexibility and precise control over the action on the court, even on the fly. He says every player on the floor is responsible for looking to see what play is being run, not just the point guard. The Aggies begin practice from day one with the card system in place. By the time the regular season comes around, everyone is expected to know the ins and outs of Morrill's approach.

"They are getting a college education," Morrill deadpanned. "So they ought to be able to read signs."

No. 12 Utah State will take on No. 5 Kansas State on March 17 at 10:00 p.m. ET. | USU vs. KSU Edge Matchup

Photo: Getty Images