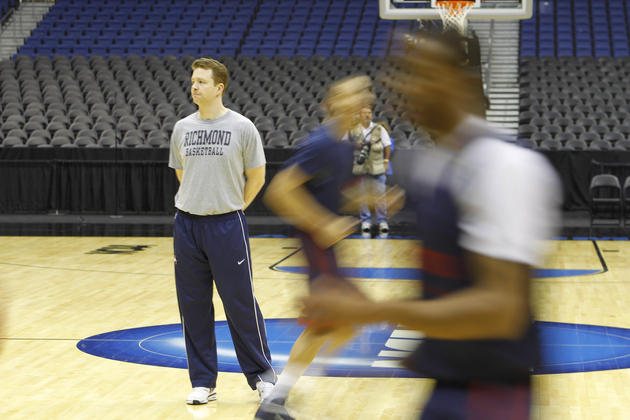 Posted by Eric Angevine


We spend a lot of time reporting on the men who get on the coaching carousel in late March and early April: Anderson to Arkansas! Painter to Mizzou? Will Brad Stevens or Shaka Smart be lured by big money? You know the drill.
Sometimes, it's the guys who refuse to get on the painted horsie that really make a difference.
Chris Mooney signing a ten-year deal at Richmond
has been the biggest non-move in the game so far, and it changes the game for several programs currently in the market.
Primary amongst those was Georgia Tech. Mooney has always been refreshingly honest about his suitors, which is rare. Recall Mike Anderson vehemently denying that he had any interest in the Arkansas job he now holds. That's how the game is played. A denial means there's interest. An open flirtation means the coach would rather stay put, but wouldn't mind if his current employer showed him a little more financial love. Whether that was Mooney's intent or not, that's what he got. He acknowledged that the Yellow Jackets were courting him, and he got a deal that should keep him in Richmond for a while - he's got security if his stock never gets any hotter, and if he does become even more desirable in the future, notice has been served that only a dynamite situation will serve to lure him away.
Mooney's extension meant that Tech turned to Dayton's Brian Gregory, a move that puzzled me a bit. There's a pretty big gap between a current Sweet 16 coach and last year's NIT champion.
Richmond, a growing power in the Atlantic 10, has served notice that the private university located on a peaceful, leafy campus in Central Virginia plans to continue to challenge Xavier and Temple for the league lead in years to come. The confluence of personal comfort and professional opportunity worked for both parties in this case.
"
In talking to Chris, his perspective is that it's kind of a double-positive for him," said Richmond AD Jim Miller. "He can have the lifestyle that he likes living here, but he can also be successful and win at the highest level as well."

Miller also pointed out that the University's commitment to basketball, beyond the core matter of keeping Mooney properly compensated, likely played a part in the coach's decision to stay put.

"Chris and I sat down and looked at every component of our basketball program and developed some strategies and thoughts of what we could do to continue to improve, and University leadership bought into that," Miller said. "Staff compensation, the amount of time our PR people and strength coaches can spend with the players, the way our team travels. We looked at budget issues and how we can make our program better."

The key to getting the deal done was a desire by both parties to maintain a marriage that's working, to preempt any temptation that might come along from outside the relationship. "We knew that there were a lot of schools interested in him, but our position was that we didn't want to get into a situation where we were going to be reactive and trying to outbid people," Miller said.

Richmond hired Mooney after he forged an 18-12 season at Air Force in his single prior season as a head coach. Not exactly an awe-inspiring record, but the University took a chance on the young Princeton graduate that has paid off in a big way. As a former assistant coach at Virginia Military Institute, Miller said he respected Mooney's ability to succeed in the tough environs of a military school, and felt his system would work for UR. Now that he's been proven right, the University leadership has seen fit to place a high reward on something that was once high-risk. This is only proper for a school that has one of the top Business programs in the country.

Odds are, not many schools have the wherewithal to follow in Richmond's footsteps. Sometimes ambition trumps the right fit (see Lickliter, Todd). If Butler and Virginia Commonwealth have the means and the vision to get something like this done, however, it can be a win-win for all concerned.

Photo: US Presswire