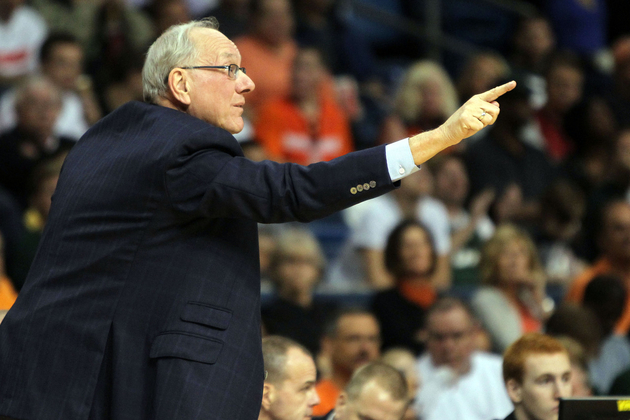 Posted by Eric Angevine


I got an email from my blogging friend
MC Bias
today about the whole tempest-in-a-teapot that was the Syracuse "point shaving scandal".
More realistically, it was the Syracuse "point shaving rumor" as it turns out. An article in
the Rochester Democrat and Chronicle looked at the aftermath of the rumor
and pondered the dangers of believing and repeating things one hears on Twitter.
When Andy Adamson, a weekend sports anchor for YNN Rochester, mentioned the gambling site's post on his personal Facebook page and Twitter account, a few sports blogs picked up on the rumor, figuring it now had credibility because a mainstream media representative mentioned it. Suddenly, in the midst of a rare four-game losing streak, SU basketball seemed headed for a full-fledged controversy.

But within 24 hours the anonymous poster recanted his allegation, saying it wasn't true and he never meant for it to leave the gambling's site's forum. Within 48 hours, Adamson, who said he deleted his Twitter profile and Facebook post within 90 minutes of mentioning the rumor, had lost his job.
The reporter certainly should have known better. Anonymous sources are OK to use, but you only need to watch "All the President's Men" once to know that an unknown source is the beginning of a story, not the middle and end.
The question, to put this in the context of basketball and not journalism, is should coaches let kids tweet? The Rochester article indicates that Jim Boeheim has a pretty liberal policy about Twitter. He believes that his players should be allowed the full range of expression and also be forced to deal with the consequences of such actions. He need only point to the fate of Andy Adamson, who passed along something he read without checking it out, to show them what one possible real-world consequence of a quick trigger finger can be.
On the other hand, if you believe a coach has a right to put a gag rule in place for times when his players are interacting with traditional media, doesn't he also have the right to do the same with electronic means of communication? Yes again. The two concepts are not that different. Both are attitudes that might be expressed by future employers. Censoring speech on a university campus might seem a bit more egregious than doing so at a privately-held Fortune 500 company, but in either case one always retains the right to leave; it's all a matter of setting one's own limits and being willing to live with one's own decisions.
In this case, what's important is that the truth did come out, and we all may have learned a lesson about jumping to conclusions too quickly. That likely won't stop something similar from happening again, but perhaps we'll all be a little more skeptical next time.