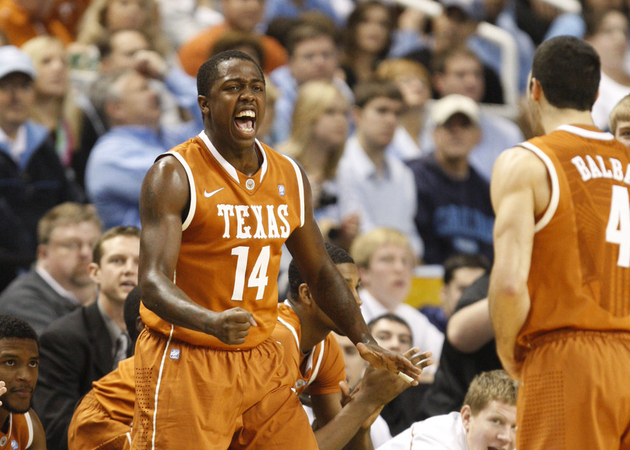 Posted by Eric Angevine

Barring an unlikely collapse in Saturday's game at Nebraska, the Texas Longhorns could take over the No. 1 spot in the AP poll on Monday. On the hardwood, they play a very tough, smart brand of basketball.
The toughness is instilled by the teachings of Rick Barnes. The intelligence comes from the players themselves.
Texas leads the Academic All-Big 12 Men's basketball team with four selections, and an amazing three on the first team, which honors players who maintain a grade point average of 3.2 or above. We're not talking token practice players here, or starters with dodgy majors. The three first-team selections are Dogus Balbay, J'Covan Brown (both above) and Gary Johnson, with Jordan Hamilton on the second team (GPA between 3.00 and 3.19). Balbay, a native of Turkey, is preparing to graduate with a degree in Middle Eastern Studies. The other three UT honorees are all Education majors.
Colorado had two first-team selections. No other school had more than one. Missouri and Baylor didn't make the list at all.
Congrats to the Longhorns for chucking the 'dumb jock' stereotype in the trash. There's no place for it down in Austin this season.
Read the full list of Academic All-Big 12 team honorees