The Southland final pitted a No. 1 seed and No. 7 seed against each other, but it wasn't a mismatch on paper. When the game was played, it certainly was not a mismatch, as lower-seeded Texas-San Antonio knocked off McNeese State, 75-72, to win the conference championship and get a bid to the NCAA tournament. Devin Gibson finally slowed down his triple-double ways, but Jeromie Hill stepped up with 25 points.
Texas-San Antonio is heading to its fourth NCAA tournament, with the last two coming as a No. 16 seed. The Roadrunners are likely to enter the Big Dance as a No. 16 seed once again, despite winning their last five games. They had an up-and-down conference campaign, but were on the wrong side of a very close Southland race and were relegated to the seventh seed.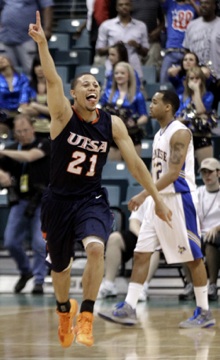 Player to know: Devin Gibson. Gibson is one of the best all-around players in college basketball. He is capable of impacting a game at both ends of the floor, as evidenced by his two triple-doubles this season and the fact he averaged nearly three steals per game during his four-year career. Gibson is playing some of his best basketball right now, averaging 23 points, 7.3 rebounds and 6.3 assists in the conference tournament.
The Vitals:
Record: 19-13, 9-7 Southland

Team colors: Navy Blue, Orange and White

We're thinking: 16-seed.

KenPom ranking: 219

RPI: 205

Best win: San Jose State (17-15)

Worst loss: Samford (12-19)

Notable stat: Devin Gibson is tied with Tu Holloway of Xavier for the most triple-doubles in the country, with two.

Most recent tournament history: 2004. Entered the NCAA tournament as a No. 16 seed, lost to Stanford in the first round.
Photo: AP
Posted by Jeff Borzello