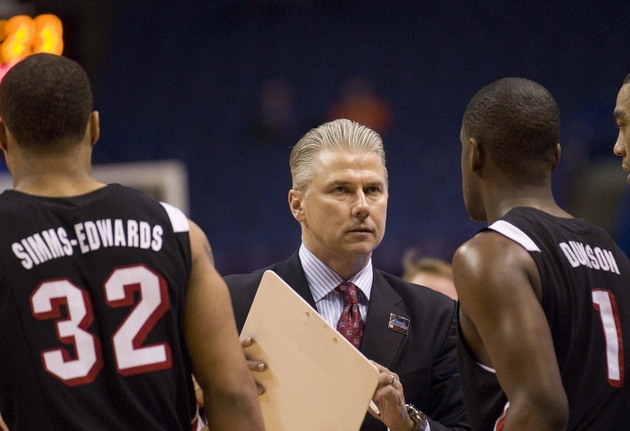 Posted by Eric Angevine

Hot Seat
We've come to the time of year when the coaching carousel really gets going. Postseason tournament losses will lead to a few coaches being unceremoniously pushed off the merry-go-round over the next few days. Here's a link to help you keep track of who's out, who's interim, and who eventually gets the job.

The latest firing is so fresh, we might as well dig into it right now. Bradley University has fired Jim Les (above), the coach who engineered a Sweet 16 run in 2006, after an early loss in the Missouri Valley tournament. His Braves famously beat No. 4 seed Kansas and No. 5 Pitt before their run was ended by Memphis in '06, but it was an issue of diminishing returns thereafter that cost Les his job after nine seasons. He made the second round of the NIT in '07, the CBI finals in '08 and the CIT finals in '09. The past two seasons, it was losing records and no postseason play at all.
Les seems like someone who will catch on elsewhere fairly soon. Plenty of programs are going to want a guy with a second-weekend NCAA tournament run on his resume. As for a possible replacement, Jeff Rabjohns of the Indianapolis Star tweeted this possibility this morning: "I've heard former Butler coach Todd Lickliter's name in connection with the Bradley job. Lickliter led Butler to 2 Sweet 16s." Lickliter has been out of work for a year after a brutal stretch at Iowa, and he'd be a great get for this program.

**UPDATE: Dennis Dodd is reporting that Texas Tech head coach Pat Knight has been fired and will depart after the Big 12 tournament. Additionally, Kennesaw State of the Atlantic Sun conference has fired head coach Tony Ingle, and CAA cellar-dweller Towson will be without the services of Pat Kennedy, who 'resigned'.**


Quotable Coaches
This week, we're all about giving the mic to some guys who've clinched their tickets to the Big Dance.
"This is tremendous, and I can't be prouder of the way our guys played. Our inside guys played great defense on their post players and our wing men did a great job of coming down and pressuring the ball,"

-Asheville head coach Ed Biedenbach gives a tactical assessment of how his Bulldogs beat 1-seed Coastal Carolina in the Big South final.
"I don't really know what to say about this team. Thirty wins, it just was not even thought about."

-Belmont coach Rick Byrd shows his humble side after destroying North Florida in the A-Sun final.
"I thought before the season, he was the most talented guard in our league," Morehead Coach Donnie Tyndall said. "I pleaded with him to be aggressive. Tonight, you saw what he can do when he does. He came up huge."

-Morehead State coach Donnie Tyndall deflects a little of Kenneth Faried's sunshine onto Faried's roomate, senior guard Demonte Harper, who scored 27 points, grabbed 11 rebounds and dished 8 assists to lead his team back to the NCAA tournament.
"Really, all my thoughts were basically I wanted it so bad for these guys. They deserve it. Like I said, there's never been a more deserving group of guys, and that they get to enjoy this means the world to me."

-Rookie Indiana State head coach Greg Lansing, after upsetting top seed Missouri State in the Missouri Valley final.

And, while we're talking about the Missouri Valley, huge hat tip to MSUBearNation, who shared this link to an emotional, inspirational coach of the year acceptance speech delivered by Cuonzo Martin:



We don't know if Martin's Bears will make the NCAA cut or not, but we know he's tough enough to handle it, whichever way the ball bounces. Missouri State is lucky to have him.
Photo: US Presswire