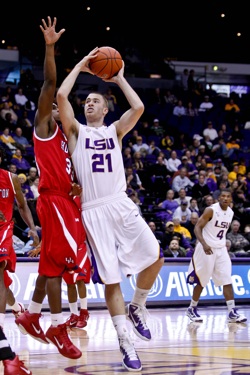 In what could be a defining year for Trent Johnson at LSU, players continue to file out of the program.
First, Aaron Dotson headed out to Utah to be closer to his mother. Then, big man Garrett Green graduated early and transferred to San Diego State for graduate school. The latest departure is sophomore Matt Derenbecker, a 6-foot-7 wing who received his release on Monday.
"After some discussion with my family and the coaching staff, I have decided to take some time away from basketball to address some personal matters," Derenbecker said in a statement. "In doing so, I will withdraw from LSU immediately."
His father, John Derenbecker, told the Associated Press that his son's problems were mainly on the academic side of things.
"He is eligible, but he can do better in the classroom and that has always been our major emphasis," the father said. "He's going to have to change some of his study habits. This really wasn't a basketball move or anything along that front."
Derenbecker averaged 6.5 points last season, shooting 33.6 percent from 3-point range. He started 15 of the final 16 games of the season, including a 10-game stretch in which he reached double-figures seven times.
He is a long lefty who knocks down outside shots with consistency. Derenbecker can play both forward positions due to his size and shooting ability. The early favorite for his services could Tulane, an in-state program for the Metairie Park Country Day School (La.) product.
John Derenbecker told the Times-Picayune (La.) that they would "talk to Tulane to see what they have available."
With three of its top seven scorers gone from last season, Johnson faces a tough task heading into the fall at LSU. The backcourt of Andre Stringer and Ralston Turner remains intact, while Storm Warren and Malcolm White return up front. The key could be top-50 freshman Johnny O'Bryant, who is expected to make an immediate impact down low.
They are still thin on the perimeter, though, and Derenbecker's departure certainly doesn't help that problem.
Photo: US Presswire