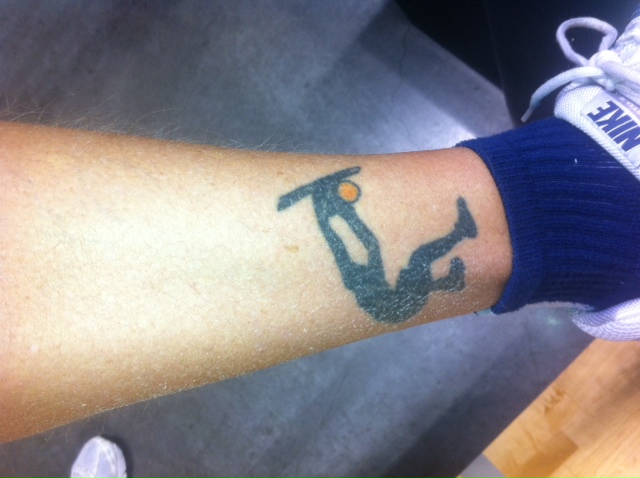 By Jeff Goodman
Now that I've returned home and had an opportunity to catch my breathe from my Preseason Tour, I'll try and run through my thoughts from each practice I attended. I've already done so for North Carolina, Duke, Ohio State and Cincinnati:
Here are my thoughts and observations from Xavier (photo is of Mack's leg, which has a Shaq-style tattoo. Judge him for this beyond anything else):
1) Just love the chip on their shoulder that many of the guys carry around with them. It starts with Tu Holloway and goes to his backcourt mate, Mark "Cheeks" Lyons - and continues to a guy like Monmouth transfer Travis Taylor. This is a team full of guys who were passed over by the elite programs in America - and they are and have been on a mission to prove people wrong. Even though Holloway is on many Preseason All-American lists, he still feels as though people don't truly respect him for his abilities. "I think they put me on there because of my numbers and because they have to put someone on our team on there because we're supposed to be good," he said.
2) If you don't know it by now, I'm in love with Taylor already. He's 6-foot-7 and some change, 220 pounds and just goes hard every possession. He's relentless, brings a toughness to the table and I love the way he fights for position in the post. He'll be the ideal power forward for Chris Mack because he'll do a ton of the dirty work - and can finish in the paint.
3) Holloway may have averaged 20-plus points a year ago, but he'll show the country that he's actually a pass-first point guard. That's what he's always been, but a year ago Mack and the Musketeers needed him to be a scorer. This year, with the maturity of Lyons, the addition of Taylor and freshman Dez Wells and the return of Brad Redford, he won't have to score as much. He can make his teammates better - which is honestly what he does best. "It won't be me leading this team in scoring most games," Holloway said.
4) Xavier's season may depend on whether big man Kenny Frease - a monster down low and a potential pro - falls victim to the good old Knucklehead Rule. He has already been suspended (and since reinstated). Frease needs to get his act together - and keep it together - or else Xavier doesn't stand a chance of going deep into the NCAA tournament. The Musketeers don't have a true backup center, so the loss of Frease would be a crushing blow.
5) You won't find five more deadly "pure" shooters than Redford, who missed the season last year due to a knee injury. Redford is fairly one-dimensional as a perimeter shooter, but it's a dimension that Xavier could sorely utilize. Put Redford around Holloway, Lyons, Frease and Taylor and teams will have to pick their poison - and leaving Redford open from long distance wouldn't be a wise move. "He's the best shooter I've ever seen," Holloway said.
6) Xavier's non-conference slate is as much of a buzzsaw as any program in the entire country. I've ranked the Top 50 overall games of the season and the Musketeers are represented a half-dozen times - including five in the non-league slate. There are home games against Gonzaga and Cincinnati and road contests at Memphis, Vanderbilt and Butler.
7) Lyons has matured and if it continues Xavier's backcourt may be able to match up with just about anyone. "He was so wild when he got here," Holloway said of his backcourt mate. "But he's calmed down - and has slowed the game down. ... He's more talented than I am." Lyons said it's been an adjustment for him because Holloway has the ball in his hands much of the time - and prior to college, that was always Lyons' role. He worked on jump stops and pull-ups this summer so he can add the mid-range dimensional to his game - which has always been either a long jumper or going all the way to the rim - with authority.
8) I was one of the biggest critics of Justin Martin's attitude and body language back when he was in high school, but it appears as though he's made significant strides in that area. Martin is talented. He's long and can really shoot the ball. The year sitting out as a non-qualifying freshman last season may have been the best thing that could have happened to him.
9) Dee Davis will be a quality backup point guard who can come in and allow Holloway to stay fresh when it matters later in the year. Davis is a pure point guard from Indiana who doesn't back down - despite his small stature- and a guy who can really pass the ball.
10) With the added depth that he didn't have last year, Mack has been able to play Holloway and Lyons against one another in practice this year. A year ago, with virtually no backcourt depth, they always played with each other in practice. Now they get a chance to push one another in practice due to guys like Davis, Wells and Redford.
11) I'm not sure any team in America will feature a more potent trio of trash-talkers than Holloway, Lyons and Taylor. It'll be an issue that Mack need to address at some point, but there's also the school of thought that he doesn't want to reel them in too much and take away that swagger and toughness. "We're straight tough," Lyons said.
12) Holloway and Lyons will receive plenty of attention for their offensive performances this season, but both are guys who play both ends of the court - and can be all-league guys on the defensive end. Holloway is already terrific defensively while Lyons can be even better due to his athleticism.
13) Vanderbilt one-year transfer Andre Walker was a terrific pickup for Xavier. He's a low-maintenance guy who just knows how to play. I'm not sure he'll wind up starting over Taylor, but he'll play a good amount because he doesn't make mistakes and also makes his teammates better.
14) I'm admittedly a fan of Mack and his brash, forthcoming attitude off the court. However, I'm also a believer of his as a coach - despite the fact that he's just a couple years into his tenure. However, this will be a major challenge for Mack with high expectations, a brutal schedule and some high-maintenance personalities on his roster.
15) I'm sticking with my prediction from a few weeks ago that this Xavier team will go to the Final Four - especially after seeing them in practice. "We want to do something no one else in school history has done," Lyons said. "Final Four. My teammates say Final Four - I say championship." Bold, but I like it.