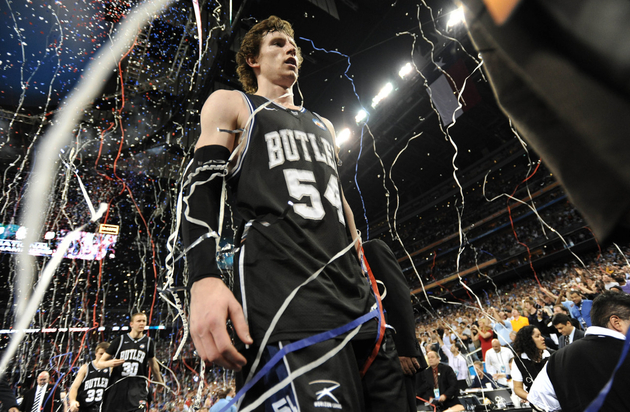 Posted by Eric Angevine

What's in a name? The immortal bard would have us believe that a rose by any other name would smell as sweet.

But what if you call a rose the Eddie Sutton Tustenugee award? How does that smell?

Butler Bulldogs senior forward Matt Howard was selected by a national media panel to receive a postseason honor by that name, and will be honored at the Tulsa Sports Charities Legends in Sports Dinner on April 31.

The purpose of the newly-created award - to honor a DI player who exhibits tenacity, dedication, discipline and unselfishness - is unmockable. The John and Judy Marshall Foundation has chosen the right player for the honor, without a doubt. The name of the award, on the other hand, might be a tad more risible.

The Tulsa World explained the name in a little more depth in an April 29 article.
The "tustenugee" word in the award's title comes from the language of the Muscogee (Creek) Nation. The word translates to "warrior."

"With this award, we are honoring a great player, a warrior, Matt Howard, who places team above self, while also paying homage to a coach, Eddie Sutton, whose legacy is steeped in discipline and dedication," said director of Tulsa Sports Charities Tommy Thompson in a press release.
Tustenugee sounds like a great word, but definitely one that will draw a snicker. What bothers me a bit more is the second paragraph in that quote.
Eddie Sutton was a great, great coach. I will not dispute that. However, the phrase 'steeped in discipline' does not come to mind when I think of the man who took Creighton, Arkansas, Kentucky and Oklahoma State to the NCAA tournament. Sutton resigned under a cloud of NCAA sanctions after his
Kentucky staff was found to be paying players
. While at Oklahoma State, he crashed his car while under the influence of
alcohol and prescription painkillers
. Even after his career was nominally finished, Sutton found a way to commit one more cynical act, by coming in as
interim coach of the San Francisco Dons
in 2008, staying just long enough to cadge his milestone 800th win out of a program that got nothing but dubious headlines out of the deal. Discipline on the court? Sure, I'll give him that. Elsewhere, not so much.
Maybe Howard knows all this, or maybe he just doesn't want to spend any time in Tulsa. Whatever the reason, he's sending his father to pick up the award in his place.
Howard
is
a warrior, and he deserves praise for his leadership and discipline. The Marshall Foundation has good motives. But any award named after a coach who can be called Eddie "
Boxful of Cash
" Sutton on the internet without kicking off a libel suit is bound to draw out a few less-than-favorable memories from those who know college basketball.
Photo: US Presswire