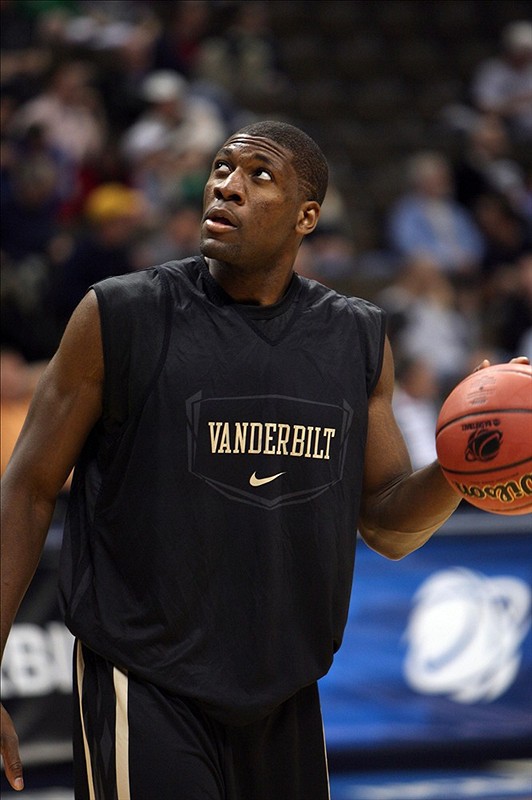 By Matt Norlander
Festus Ezeli
, the big man partly responsible for Vanderbilit being No. 7 in CBSSports.com's
Top 25 (and one) preseason poll
, has been suspended six games.
The sitting is related to improper benefits, specifically, that Ezeli had a hotel meal and room paid for by an Vanderblit alumnus. Such activity is in violation of NCAA rules, and so Monday afternoon, the school announced it was sitting Ezeli for six games. Vanderbilt discovered the incident after an internal investigation from the school's compliance office finished in early August.
The school says it immediately reported the violation to the SEC. The NCAA has complied with Vanderbilt's punishment, and no further action from the NCAA will occur. Ezeli will return to the team on Nov. 28, when Vandy plays against Xavier (ranked No. 13 by CBSSports.com).
"The improper benefits stemmed from a chance encounter earlier this summer with an out-of-town alumnus while on a weekend trip to visit friends," the school said in a statement. "The NCAA prohibits any benefit extended to a student-athlete that is not readily extended to all students by boosters of the school's athletic program, which includes by definition its alumni."
"I am very sorry and would never want to jeopardize my college career over such a petty thing as a meal or a hotel room," Ezeli said in that statement. "I would have been able to afford those things myself. I have always tried to do the right thing; I should have known better and am embarrassed that my mistake could affect my team."
Vandy's vice chancellor, David Williams, as well as head coach Kevin Stallings were vocally in support of Ezeli's character in the wake of the mildly embarassing infraction. (Of all things to get comped or bought, a hotel room isn't exactly at the top of any player's wish list.)
"All of us are disappointed, especially Festus," Stallings said. "He is always striving to do the right thing and cares a lot about the university, our program and certainly his teammates. He is allowed to practice and play in our exhibition game and we look forward to his return Nov. 28. Neither Festus nor I will be making any further comments on this matter and will direct all questions to Vice Chancellor David Williams."
Ezeli, a senior, averaged 13 points per game last year.


Photo: US PRESSWIRE