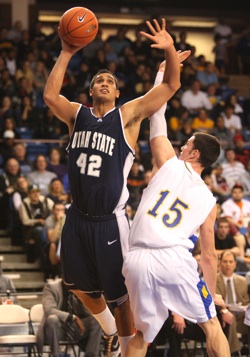 Posted by Eric Angevine


The news that
Utah State is being considered for membership in the Mountain West Conference
is not that surprising. The Aggies have a decent football program, which is the first requirement for realignment, as we all know by now. The fact that the basketball program has been a contender in the WAC just adds icing to the cake for the league, which lost Brigham Young to independent status and TCU to the grossly oversized Big East. The fact is, Utah State had the option to jump earlier, and misplayed their hand based on some bad information. As the Idaho Statesman reported yesterday, there are many good reasons for the MWC to want USU:
Utah State has a strong men's basketball program and would give the league a presence in the Salt Lake City TV market, where exiting members Utah and BYU will leave a gaping hole. Utah State officials have said they spurned the Mountain West last summer when it appeared the WAC was going to add BYU.

Yes, a couple of the true football prizes of the expansion round got away, but we're basketball fans first and foremost, so let's look at the tourney profile of this league if the proposed eleventh member is added, based on tourney invites since 2000:
San Diego State
: Three bids over the past ten years, in 2002, 2006 and 2010. As of right now, Steve Fisher's squad is undefeated and in line for a No. 1 seed in the NCAA tournament for 2011. One caveat, however: the
monetary commitment to excellence must improve
.
New Mexico
: Two bids (2005, 2010). With Steve Alford in charge, the Lobos are a force to be reckoned with on the recruiting trail. The Pit is one of college basketball's gems. Without a doubt, this is a top-tier program in college hoops right now.
UNLV
: Four bids. One each in 2000, '07, '08 and '10. Lon Kruger has the Rebels on a tear these days, and doesn't look to slack off any time soon. Plus, it never hurts to be able to point at Tark's championship banners as an acknowledgement of what can happen for a team in this league.
Colorado State
: One bid in 2003. The Rams don't have much history with the Big Dance, but CSU has a shot at staying in the current league's upper echelon this season.
Air Force
: Two bids (2004, '06). The Falcons have attracted some pretty good coaches over the years. Joe Scott led the Academy to the '04 berth and is now
in charge up at the University of Denver
. Former Nuggets coach Jeff Bzdelik hopped from the AFA to Colorado and over to Wake Forest in just four short years.
Wyoming
: One bid in 2002. The Cowboys are a bit of a weak link in basketball terms, but they did pull off a first-round upset of Gonzaga in that one appearance this decade.
Fresno State
: Two bids (2000, '01). Whoa, there's Tarkanian again. The towel masticator had Fresno hoppin' in the early part of the last decade, but it's been Nada City since.
Nevada
: Four bids (2004-2007). Trent Johnson and Mark Fox put the Wolfpack on the map and moved on, but this program is one of the jewels of the WAC that the MWC was only too happy to poach. Strong in football and basketball, and likely to do credit to their new league.
Boise State
: One bid, 2008. Boise's orange and blue Taco Bell Arena floor isn't quite as iconic as the blue football field, but it could be. The Broncs have a new head coach in Leon Rice, a product of Mark Few's Gonzaga coaching tree, and they're currently 5-2 in the WAC, which puts them in striking distance of...
Utah State
:
Seven bids
. To reiterate, this isn't 100 percent official yet, but it seems very likely that the Aggies will make the leap, and MWC hoop-heads should be thrilled at the notion. Stew Morrill has built a powerhouse program in Logan, and his Aggies are currently 7-0 in the WAC standings. The Spectrum is a rockin' venue and the new rivalries this addition would provide make for a compelling hoops slate.
You'll notice that was only ten members. That's because Hawaii joined in football only, sending their hoops team to the Big West. That could present the strong likelihood that the hoops league will remain unbalanced, even if another member is added, because football drives the bus.
Candidates for the twelfth spot have been reported to be
San Jose State, UTEP, New Mexico State and Idaho
. Despite having a pretty good hoops program, NMSU went 2-10 in football last season, and that's not very attractive for a burgeoning power league. San Jose State is pretty meager in both revenue-producing sports. Idaho is pretty good, but doesn't have much name recognition right now. The hot get would be UTEP, which consistently fields strong teams in both big-time sports. Odds are, it wouldn't take much to pry them away from C-USA, which has the team traveling all the way to the Atlantic ocean to play East Carolina and Central Florida.
The upshot is this: even now, without Utah State or UTEP, the MWC is turning into a power conference. All it lacks is the 12 teams necessary to split into divisions and mount a football championship game. In basketball, it stratifies out almost exactly like a power conference does, with powerful teams at the top, dangerous teams in the middle, and a bottom layer that's inconsistent but shows potential to rotate teams into the middle from year to year.
It may take a while for the nation at large (and the all-important television markets) to buy into the concept, but the MWC has done what it set out to do. It's become a major player in college sports, with a legit shot at landing as many or more tourney bids than some of the current Power Six conferences.
Photo: US Presswire