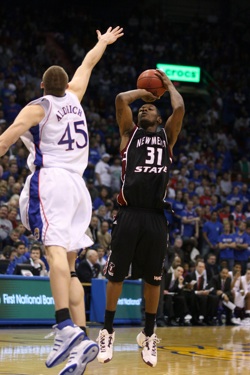 If Wendell McKines can average half of what he put up in the San Francisco Pro-Am this summer, New Mexico State has a chance to compete with Utah State in the WAC.
McKines, who missed last season with a broken foot, averaged 34.4 points and 15.1 rebounds during the legendary summer league and won MVP honors. He also scored 53 points in the championship game. While a summer league is certainly not Division-I college basketball, those numbers are a positive sign for McKines.
Heading into last season, McKines was a preseason all-WAC selection who had averaged 11.5 points and 9.9 rebounds the two previous years. The 6-foot-6 forward was expected to combine with Troy Gillenwater up front for the Aggies to form one of the fiercest forward tandems in the west.
Instead, he suffered a broken foot during a preseason practice in October and ended up missing the entire season after officially taking a redshirt year in January. By all accounts, McKines is back and ready to lead the Aggies.
"This summer all I wanted to do was work hard," he told the Oakland Tribune. "This was an opportunity for me to challenge myself, and I did. Life throws things at you. I just had to bounce back."
If McKines is indeed healthy and back to the form that helped him post 25 double-doubles in a two-year span, New Mexico State could be poised to make a run at the top of the WAC standings.
Head coach Marvin Menzies returns eight players who were in the rotation last year, not including McKines. Hernst Laroche is a solid point guard, while Christian Kabongo scores at the rim effectively. Tyrone Watson and Hamidu Rahman will welcome the return of McKines in the frontcourt.
Two X-factors heading into the fall are K.C. Ross-Miller and Remi Barry. The status of Ross-Miller, who originally committed to Kentucky in 2007, is up in the air. The NCAA clearinghouse denied him admission at LSU, so he attempted to go to Florida International. He surfaced at New Orleans in January, but then transferred to New Mexico State in the spring. If eligible, Ross-Miller is a very good guard who can really fill it up. Barry is a France native who picked up plenty of high-major interest in the spring of his high school season. As a non-qualifier, he had to sit out last season but should be ready to suit up this fall. He has a high ceiling and would make an immediate impact up front.
Combine all that with a seemingly healthy and motivated McKines, and the WAC might not be a walk in the park for Utah State anymore.
Photo: US Presswire