This is for all the doubters who think QuickenLoans Arena will never see a championship team now that LeBron is gone. March 8-12, there will be passion, excitement and winning in the home of the Cavaliers again, because the MAC tournament will come to town.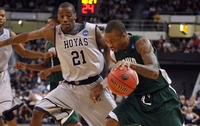 The Kent State Golden Flashes (21-10, 12-4) are pretty much MAC royalty. They've been in the league's upper echelon for 13 years running, and have nabbed the top seed in the conference tournament this season. The Flashes are led by 6-foot-8 junior Justin Greene, who paces his squad in scoring (15.6 ppg) and rebounding (8.4). The big man is flanked by two upperclassmen guards in Rodriguez Sherman and Carlton Guyton. Both shoot over 40 percent from deep, making the interior double-team a very dubious proposition for opponents. The Golden Flashes are the favorites to claim the MAC auto bid, but postseason dreams rarely go as planned in the tough Midwestern league, and they know that as well as anyone.
The MAC is divided into two divisions – East and West – and that can make for a bit of illusory superiority sometimes. The four teams that beat Kent State this season were also members of the East division. A quick look at kenpom.com shows a lot of red on the West side of the standings, which means some very bad offenses and defenses live there. It will be primarily up to No. 2 seed Western Michigan (19-11, 11-5) and No. 4 Ball State (18-12, 10-6) to prove the worth of the West when given the chance. The No. 3 Miami Redhawks (16-15, 11-5) are an East team, and will sit out the first round with a bye, as the top four seeds do in the MAC. The first round of competition will get underway on March 8, with the championship game taking place on March 12 in Cleveland.
****
Title game: 6:00 p.m. ET, Saturday, March 12 (ESPN2)

BEST PLAYERS
Xavier Silas,

Northern Illinois

Julian Mavunga,

Miami

Justin Greene,

Kent State
Conference RPI: 20
KenPom.com rating: 18
Sagarin rating: 17
NCAA Tournament Locks: None
NCAA Tournament Bubble Teams: None
Last NCAA Tournament Appearance:
Kent State: 2008 (71-58 loss to UNLV)
Western Michigan: 2004 (71-58 loss to Vanderbilt)
Miami: 2007 (58-56 loss to Oregon)
Ball State: 2000 (65-57 loss to UCLA)
Ohio: 2010 (97-83 win over Georgetown (above), 83-68 loss to Tennessee)
Akron: 2009 (77-64 loss to Gonzaga)
Bowling Green: 1968 (72-71 loss to Marquette)
Buffalo: N/A
Central Michigan: 2003 (79-73 win over Creighton, 86-60 loss to Duke)
Northern Illinois: 1996* (74-73 loss to Texas Tech)
Eastern Michigan: 1998 (83-71 loss to Michigan State)
Toledo: 1980 (94-91 loss to Florida State)
*member of Horizon League
Photo: US Presswire

Posted by Eric Angevine