Posted by Jeff Borzello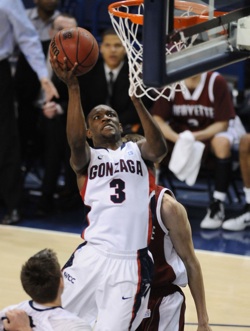 A few players have played basketball and football in college. In some cases, most notably Greg Paulus and potentially Melvin Goins, a player used his four years of basketball eligibility and then used his fifth year to play football.
But leaving basketball after three years to transfer and play a sport you haven't played in six years?
That's exactly what Demetri Goodson is planning to do.
The Gonzaga point guard announced Tuesday he was leaving the basketball program to pursue a college football career.
"He wants to finish his NCAA eligibility playing football," head coach Mark Few said. "After having convinced us he would finish his degree then we were all in support of his decision."
The Spokane Spokesman-Review suggested Goodson will return home to Texas, and could play at Texas A&M or Texas State. His older brother played football at A&M, and his brother's former coach is now at Texas State.
Arizona State offered Goodson a football scholarship back in high school, despite the fact he stopped playing on the gridiron during his sophomore season.
Goodson started all 35 games last season and 68 of his last 69 games, averaging 5.2 points and 2.6 assists during his junior campaign. He will have two years of football eligibility.
Photo: US Presswire