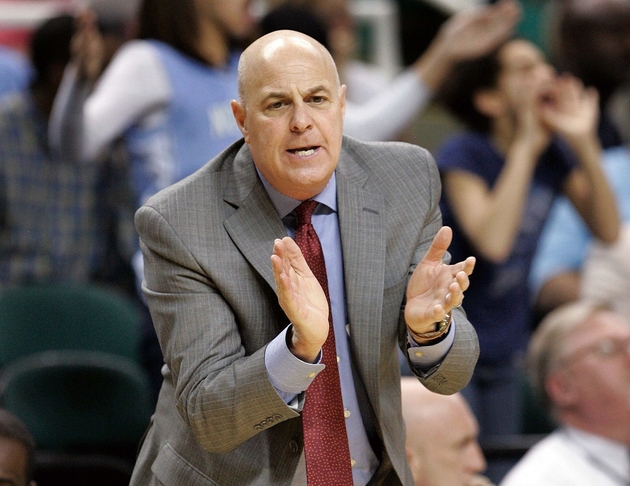 Posted by Eric Angevine


Getting fired is no fun. It's not something you really wish on another human being. But it's a fact of life, and even more so in the high-pressure world of coaching (at any level). These ten men bought a ticket for the ride, so we'll have to be honest in assessing their efforts to date.
The axes that are going to fall this season have mostly dropped already. Fire a guy in late April, and you have a huge mess to clean up and not much time to do it in. We saw plenty of that last season in the Big East, when Fred Hill (Rutgers) and Bobby Gonzalez (Seton Hall) went off the reservation and forced ADs to oust them. In each case, the school got a good coach in place, but it's a lot scarier to do that without the safety net of extra time.
Here are ten power conference coaches who need to recruit well this spring and summer and then actually DO SOMETHING with that talent in order to feel safe and secure this time next season.
ACC

Seth Greenberg, 151-103 in eight seasons at Virginia Tech
: Yeah, I know, we say this every year. But here we sit again, with the Hokies juuust missing the Big Dance. I mean, it's admirable what Greenberg has been able to do with the injury issues he's had to deal with, but it's also rather surprising that he hasn't been able to adapt and overcome with the players who stay healthy. Give Brad Stevens last season's Hokie lineup and see if he doesn't win a championship with it.
Jeff Bzdelik, 8-24 in one season at Wake Forest
: I feel strange putting a first-year coach on this list, and there's likely no way Bzdelik will be kept on that short of a leash, but man alive, was this hiring a mess. Clemson hired the criminally underrated Brad Brownell later in the year and had a pretty strong season. Wake fired Dino Gaudio for underperforming and got... much worse. Bzdelik is a real cypher - he moves around a lot but doesn't exactly blow the doors off anywhere he goes. He's like bizarro Larry Brown.
I would be remiss if I didn't point out that Miami dodged a bullet here. If Frank Haith hadn't been taken off their hands, this list -- like Spinal Tap's amps -- would go to eleven.
Big 12
Travis Ford, 65-36 in three seasons at Oklahoma State
: Really, Ford doesn't seem to be in much danger, either. Then again, who saw Jeff Capel falling so far from grace this season? OSU has had three straight 20-plus-win seasons under Ford and has pulled some big upsets, so fans are probably relatively happy with him right now. Still, there has been a progression of diminishing returns, with the Cowboys going from 4th in the league in Ford's first season, to 6th the next, and now down to 9th. He probably has a couple more years to prove that his system can work, but T. Boone Pickens routinely ogles Bill Self over at Kansas, and that kind of open lust can put strain on even the strongest marriage.
Big East

Stan Heath, 41-54 in four seasons at South Florida
: I honestly can't believe I even have to write this one. Check these numbers: 20-13, 9-9, 9th place, NIT first-round loss. That's Stan Heath's BEST SEASON at USF. He's done a great job of lining up massive inside players that many programs would kill for, and yet he's made no progress in the Big East race. Last season his Bulls won two whole games in conference, dropping to 14th place. That, plus the 8 overall wins, is the lowest win total of his career to date. Not sure anyone's awake over in the ADs office at USF. Then again, this is fine golfing weather.
Big Ten

Ed DeChellis, 117-139 in eight seasons at Penn State
: It might seem a bit odd to put EDC on this list after he finally got over the hump and into the NCAA tournament, but seriously... what now? It took four years of superhuman effort from Talor Battle to achieve a first-round NCAA tourney loss. Now that Battle's graduated, how far will this program fall? I can't answer that question, but I can't imagine things are going to get in any way better without the one sure thing on the Nittany Lion roster next season.
Bill Carmody, 160-176 in 11 seasons at Northwestern
: No, it's not really Carmody's fault that the Wildcats can't make the leap. In fact, his tenure has actually made people pay attention to Northwestern, and to actually believe that the Big Dance curse will finally be broken soon. Carmody signed an extension this year and isn't going anywhere, most likely because the folks at the Northwestern think tank (I'm not being sarcastic) know that a disruption at this point could plunge them back into the dark ages again. Still, by empirical measures, this all looks so mediocre it hurts.
Tom Crean, 28-66 in three seasons at Indiana
: I hold a firm belief that Tom Crean is a good coach, and that he is probably the right man to turn Indiana back into a powerhouse. I also hold a firm belief that fans in Bloomington are crazy. Anyone not happy with Crean's rebuilding efforts over the past three seasons will be doubly outraged if he fails to win a Big Ten championship now that he's secured the services of local hero Cody Zeller. You'd like to think that Hoosier fans would direct their anger at the state of the program to Kelvin Sampson and even Bobby Knight, rather than Crean. You'd like to.
Pac-12

Craig Robinson, 40-49 in three years at Oregon State
: Hard to really fault Robinson for the state of the program in Corvallis, but he wasn't hired to maintain the status quo, either. In three seasons, we're still waiting for Robinson to win more games than he loses in any given season, and that shiny CBI trophy (No, I have no idea what it might look like, it could be made of balsa wood) isn't going to make anyone forget that the Beavers dream of more.
SEC

Darrin Horn, 50-42 in three seasons at South Carolina
: Horn is young, and South Carolina is not an easy place to forge a sterling career. Still, the wunderkind from Western Kentucky has been easily outstripped by the likes of Anthony Grant at 'Bama and Mark Fox at Georgia. It's not out of the question that Tony Barbee could turn around Auburn quickly, either. The SEC has been largely wide open behind Kentucky, Tennessee and Vanderbilt in recent years, and it would have behooved Horn to take advantage. Now he's behind the curve yet again.
Trent Johnson, 49-48 in three seasons at LSU
: My, how exciting 2009 must have been in Baton Rouge! Trent Johnson arrives from a wildly successful run at Stanford, amid expectations that he'll blow the doors off the SEC, since he won't have to worry about the academic profile he had to pursue at the Pac-10 school. In his first season, Johnson guides the Tigers to a first-place finish and an NCAA berth. Just imagine what he'll do with his own players!!! 22-40 overall, 5-27 in the SEC and two sixth place finishes in the West. If you think Horn, a relative rookie, was a disappointment in these circumstances, imagine how people must be looking at Johnson.
Each of these guys can begin the reversal of fortune by landing some recruits over the next few weeks. After that comes the hard part: turning talented parts into a fully-functioning machine.
Photo: US Presswire