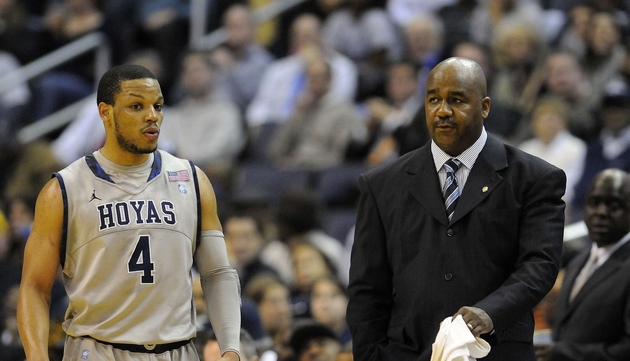 Posted by Eric Angevine

If it were anyone other than Chris Wright, an injury to the non-shooting hand might be something to adjust to. But Wright's game -- while it includes a fair amount of scoring -- is not valued by mere points produced.

This season, Wright has been on the floor as much as his fellow senior Austin Freeman. Freeman scores over 24 percent of the team's points, with Wright coming in second with 18 percent of the Hoya's scoring output in his column. Wright gets to the line more than any other Hoya as well, and nobody even comes close to his contributions as a distributor and decision-maker.

That's the statistical impact, but there's so much more under the surface. Consider the backcourt chemistry that Georgetown has had to draw on this season. Two powerful, adept guards, each weighing over 200 lbs, allowed JT3 to play a power game at every position on the floor – pretty valuable in the Big East.
The distribution is the part that seems most difficult to replace right now. A pure scorer can play with a cast on his hand (witness Arizona's Derrick Williams) but a point guard who can only use one hand is a problem.
This is not to say that losing Chris Wright cost Georgetown the Cincinnati game, because the Hoyas were in trouble before their senior guard was injured with 15 minutes left in the second half. However, Wright had two assists before his injury ended his night, and that still stood as 25 percent of the team total of eight by the end of the evening. And whether Wright is expected to be the team's leading scorer or not, he had been shouldering more of that load over the past three games, leading the Hoyas with 20 points vs. Marquette, 19 in a loss at UConn, and a season-high 26 at South Florida on Saturday.
There's no good time for an injury like this one, but stopping a player cold in the middle of a streak of great play is extremely disheartening. JT3 can show us where his coaching acumen stands if he gets through the final two games of the season without this team falling apart. Fortunately, he has time on his side. The Hoyas host Syracuse on Saturday, then have a full week off before an afternoon rematch with the Bearcats. If Wright can recover quickly, this is still a top-25 team. If not, the Hoyas could drop several pegs in the postseason seeding.