In some ways, the ACC is right back where it has always been. North Carolina (24-6, 14-2) and Duke (27-4, 13-3) waged a season-long battle for control of the conference, deciding the tourney seeds on the final day of the season in a head-to-head matchup. That's pretty much what a long view of the league's history would predict, though the rivalry failed to materialize last season. Regardless, it's back now.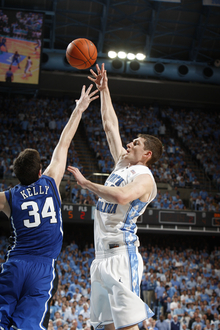 The steep dropoff after the Tobacco road bluebloods is rather less than the norm, however. Florida State (21-9, 11-5) is a defensive powerhouse that struggles to score with star player Chris Singleton on the bench with an injury. Four-seed Clemson (20-10, 9-7) looks weak due to a soft non-conference schedule and a lack of marquee wins in league play.
And that's just the teams that earned first round byes. Let's take a look at the rest of the field, which begins play March 10 in Greensboro, North Carolina.
No. 8 Virginia (16-14, 7-9) vs. Miami (18-13, 6-10), 12:00 p.m. ET
Virginia arrived at this juncture in a pretty standard way: it's the second season under a new head coach who had to clean house and start fresh. It didn't help that Mike Scott, the best player and clear senior leader of this team, went down with a season-ending injury in December. With a tough season getting tougher, Tony Bennett handed the ball to fourth year guard Mustapha Farrakhan (13.5 points per game) and watched to see which of his freshmen could play. Early returns are mildly encouraging for newbies Joe Harris (10.6 ppg) and K.T. Harrell (8.0 ppg). On the Miami side of the ball, junior Malcolm Grant (14.9 ppg) is joined by sophomores Durand Scott (13.2 ppg) and Reggie Johnson (12.0 ppg, 9.7 rpg). The 6-foot-10 Johnson, in particular, should provide a difficult matchup for the undersized Cavaliers. The Hurricanes won the only in-season matchup between the two programs by two points in overtime.
No. 5 Boston College (19-11, 9-7) vs. No. 12 Wake Forest (8-23, 1-15), 2:00 p.m.
The edge in this matchup of first year coaches should go to former Cornell boss Steve Donahue. His BC Eagles finished the season on a three-game win streak after nearly upsetting UNC in a low-scoring game in February, and junior Reggie Jackson (18.3 ppg, 4.5 apg) has been one of the league's best players. 6-8 senior Joe Trapani is the inside to Jackson's outside, chipping in 14.4 points and 7.2 rebounds per game. Wake Forest has had an absolutely dreadful season under former Colorado coach Jeff Bzdelik, with 6-7 freshman Travis McKie (12.9 ppg, 7.6 rpg) as the lone bright spot.
No. 7 Maryland (18-13, 7-9) vs. No. 10 North Carolina State (15-15, 5-11), 7:00 p.m., ESPN2
There will actually be a few really good players in this game, which is the only opening-round game to be nationally televised. For Maryland, it's big Jordan Williams (16.9 ppg, 11.6 rpg) and emerging guard Terrell Stoglin (11.6 ppg) helping to make "wait 'til next year!" sound like more than an idle boast. At NC State, where Sidney Lowe is on career life support, the somewhat disappointing senior Tracy Smith (14.1 ppg, 20 games played) is making way for any number of talented freshmen. An extremely solid foundation has been laid, with freshmen C.J. Leslie (11.2 ppg, 7.1 rpg), Lorenzo Brown (9.4 ppg, 3.8 apg) and Ryan Harrow (9.3 ppg, 3.4 apg) looking good. If the NBA doesn't reach for any of them, perhaps a hot new coach will have something serious to work with in 2011-2012.
No. 6 Virginia Tech (19-10, 9-7) vs. No. 11 Georgia Tech (13-17, 5-11), 10:00 p.m.
Oh, what a nightcap. One team on the bubble, both coaches on the hot seat. While some of Seth Greenberg's difficulties have come from a horrible history of injuries to key players, he still fell to sixth place in the tournament with seniors Malcolm Delaney (18.8 ppg, 4.1 apg) and Jeff Allen (13.8 ppg, 10.0 rpg) leading his squad, and that's a pretty tough pill to swallow. If anyone is a lock to do less with more in a similar scenario, it's been Paul Hewitt, who has shown an ability to turn NBA-quality players into mediocre seasons pretty frequently since the Yellowjackets made that fateful run to the NCAA final in 2004. While his talent level wasn't as high this year as it has been in years prior, he still squandered an all-out effort by junior Iman Shumpert (17.5 ppg, 6.1 rpg, 3.5 apg, 2.7 spg) in Hewitt's eleventh season as head coach of the program.
****
Title game: 1:00 p.m. ET, Sunday, March 13 (ESPN)
BEST PLAYERS
Nolan Smith,

Duke

Tyler Zeller,

North Carolina

Harrison Barnes,

North Carolina

Chris Singleton*,

Florida State
*injured
Conference RPI: 5
KenPom.com rating: 4
Sagarin rating: 4
NCAA Tournament Locks: North Carolina, Duke, Florida State
NCAA Tournament Bubble Teams: Boston College, Virginia Tech
Last NCAA Tournament Appearance:
North Carolina: 2009 (National Champions)
Duke: 2010 (National Champions)
Florida State: 2010 (lost to Gonzaga)
Clemson: 2010 (lost to Missouri)
Boston College: 2009 (lost to USC)
Virginia Tech: 2007 (beat Illinois, lost to Southern Illinois)
Maryland: 2010 (beat Houston, lost to Michigan State)
Virginia: 2007 (beat Albany, lost to Tennessee)
Miami: 2008 (beat St. Mary's, lost to Texas)
NC State: 2006 (beat Cal, lost to Texas)
Georgia Tech: 2010 (beat Oklahoma State, lost to Ohio State)
Wake Forest: 2010 (beat Texas, lost to Kentucky)
Photo: US Presswire

Posted by Eric Angevine