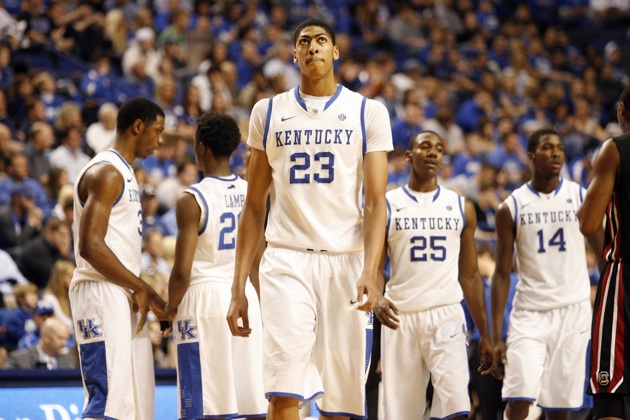 With his recent stretch, Anthony Davis is leaving the rest of the freshmen -- and his teammates -- in the dust. (US Presswire)
Anthony Davis is stepping up his game when some of the other freshmen are hitting the proverbial wall. He had a tremendous performance against Arkansas earlier this week, going for 27 points, 14 rebounds and seven blocks in the win. He also set the Kentucky single-season record for blocks – with 12 regular-season games remaining for the Wildcats. As a result, he's still No. 1 – and the gap between him and teammate Michael Kidd-Gilchrist is growing.
The Freshman of the Year rankings are released every Thursday afternoon, shortly after Jeff Goodman and Gary Parrish's Player of the Year rankings.
1. Anthony Davis, Kentucky (Last Week: 1): 13.8 ppg, 10.4 rpg, 4.7 bpg, 65.8 FG%
Davis' scoring has always been an afterthought this season, but he's averaging 18.5 points in his last six games. If that continues, Kentucky will be even tougher.
2. Michael Kidd-Gilchrist, Kentucky (Last Week: 2): 13.2 ppg, 7.5 rpg
Kidd-Gilchrist bounced back from a mini-slump with 17 points and 12 boards against Tennessee, before an uneven game vs. Arkansas. Continues to contribute in so many ways.
3. Trey Burke, Michigan (Last Week: 3): 14.6 ppg, 3.6 rpg, 4.8 apg
Burke is getting better and better. He's limited his turnovers lately; shot 15-for-24 in last two games; and scored 20 points and had the game-winning assist vs. Michigan State.
4. Cody Zeller, Indiana (Last Week: 4): 14.9 ppg, 6.5 rpg, 64.8 FG%
Zeller has found his offensive touch lately, averaging 19 points in his last three games. He's also grabbing seven boards per game in those three. But Indiana is 0-3.
5. Tony Wroten, Washington (Last Week: 5): 16.8 ppg, 4.5 rpg, 3.4 apg
Wroten leads all BCS-conference freshmen in scoring this season, but he struggled against Washington State. With Cal and Stanford this weekend, he needs to step up.
6. Brad Beal, Florida (Last Week: NR): 14.3 ppg, 6.0 rpg
After a one-week hiatus, Beal is back on the list. His offense is coming around, averaging 15.5 points in his last two games, with six 3-pointers and just one turnover.
7. Moe Harkless, St. John's (Last Week: 8): 15.6 ppg, 8.4 rpg
St. John's has now lost five of its last six, but it's through no fault of Harkless. He's trying to carry the team as much as he can, and he never seems to have a truly bad game.
8. Le'Bryan Nash, Oklahoma State (Last Week: NR): 12.9 ppg, 4.9 rpg
He struggled against Baylor over the weekend, but Nash is averaging 16.2 points and 4.8 rebounds in Big 12 play. He's also become far more efficient recently.
9. Eli Carter, Rutgers (Last Week: 6): 13.7 ppg, 3.0 rpg
Since making the rankings last week, Carter shot just 6-for-19 and averaged 9.5 points. He was still able to knock down a clutch 3 against Notre Dame in Rutgers' win, though.
10. Justin Edwards, Maine (Last Week: NR): 15.7 ppg, 6.1 rpg, 3.4 apg
The first repeat mid-major player, Edwards continues to expand his game. He is distributing and rebounding more lately, but still has the ability to score. Edwards also defends.
Notes:
Three players were knocked out of the rankings. Mississippi State's Rodney Hood averaged just 7.0 points and 4.3 rebounds in the three games since last week, shooting 8-for-21 from the field. Notre Dame's Jerian Grant notched 12 assists against Rutgers, but he struggled scoring the ball and went just 3-for-11 from 3-point range. Obi Emegano also dropped out as Western Illinois dropped two games.
Baylor's Quincy Miller is making his case to be included, averaging 19.0 points in his last two games. Can he make clutch plays, though?
Andre Drummond had notched three straight double-doubles, and was headed for the rankings – then he went 2-for-9 with four points against Cincinnati.
Xavier's Dezmine Wells is averaging 12.6 points and 7.4 rebounds in Atlantic-10 play.
Austin Rivers is averaging just 7.7 points in ACC play.
Chasson Randle of Stanford is scoring 17.7 points in his last three games; he's been one of the most underrated frosh in the country.
Fresh off Ole Miss' win over Mississippi State, it's time for Jarvis Summers to get some recognition. He's mputting up 15.0 points and 4.7 assists in his last three games.
San Diego's Johnny Dee is one of the better frosh shooters out there. In a three-game stretch, he shot 14-for-27 from deep and averaged 24.0 points.
Freshman leaders – Points: Juan'ya Green, Niagara (18.6); Rebounds: Anthony Davis, Kentucky (10.4); Assists: Dylan Garrity, Sacramento State (6.5)
More College Basketball coverage