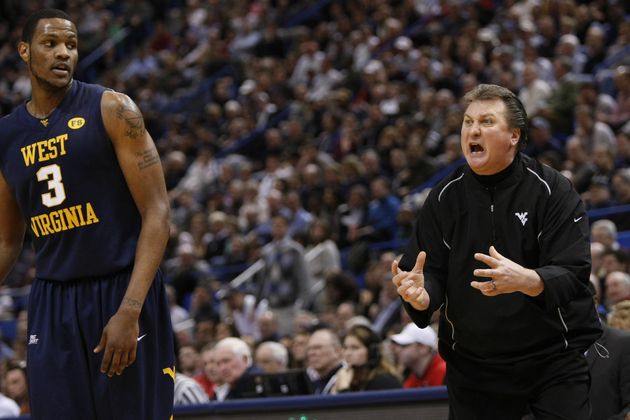 Posted by Eric Angevine


Last season, West Virginia coach Bob Huggins and his protege, Kansas State's Frank Martin, put on postseason runs that were the envy of most every other program in DI basketball. Martin's Wildcats made the Elite Eight before falling to Butler, and Huggy Bear took the Mountaineers all the way to the Final Four. The former co-workers both used the same ear-splitting style to get the most out of their players. Martin, these days, has the reputation of being the most intense coach since one Robert Montgomery Knight patrolled the sidelines.
This season, however, both have struggled to repeat their success. The Wildcats are 14-7 and have fallen to 10th place in the Big 12 with a 2-4 mark. West Virginia is better off, going 13-5 overall and 4-2 in the Big East.
The losses can be explained by many different factors: graduations, injuries, suspensions, you name it. What is more unusual is the number of incidents in which young players seem to have given up, or just tuned their coaches out altogether. Jacob Pullen has publicly stated that he won't play an NIT game if the Wildcats don't garner an NCAA berth in his senior season. His teammate, Jamar Samuels, said he was unphased by Martin's shouting, and lackadaisically promised to give that whole "
leadership thingy
" a try some day. Huggins has had it far worse this week. Freshman Noah Cottrill quit the team formally, sophomore Dan Jennings wandered out of the arena in the middle of a game, and leading scorer
Casey Mitchell was suspended indefinitely
for a violation of team rules.
Clearly, these kids aren't getting the message, and it's not because they need the volume turned up.
Before the season started, ESPN the Magazine ran a piece by Seth Wickersham that explored the psychology of Huggins, Martin and a few other shouters.
In some cases, screaming can be incredibly effective. Under pressure, some athletes become lost in their own heads, thinking about the task at hand. Such stress wastes precious resources that could be turned to solving the problem.



But (Stanford professor Roderick) Kramer stresses that the decibel level matters far less than the content of the yelling and the personality of the yeller. Yelling works best if the content is positive and if the yeller cares about his audience. But if the bellowing is abusive, if it's meant to tear into self-esteem, it often has the opposite effect. "You want to arouse a sense of confidence with yelling," Kramer says. In other words, yell out of love.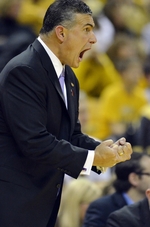 I've never been screamed at or coached by either of these men, so I can't judge the intent behind their shouting. The piece also points out that Coach K is a screamer, and he's won multiple national championships. In fact, he'll soon pass his own mentor, world-class verbal depth charge dropper Bob Knight, on the all-time DI wins list. It's impossible to say from this remove how yelling works in each situation. Heck, most of us yell at one time or another -- I know I do -- it's human nature to crank up the decibels when you're not being heard.
If I were to hazard a guess, and I am, I'd say that the yelling probably takes on a more frustrated tone when your team is slumping and suffering from sky-high expectations. The words might cut a little deeper when a player is mired in his own secret self-doubt. To quote the Boss "You end up like a dog that's been beat too much, til you spend half your life just coverin' up."
On the other hand, some of these kids need to imagine what it's going to be like some day when they're working at a retail store or sitting at a desk, and a sharp-tongued boss reams them in his office. At that point, the ramifications of talking back or walking out might mean the rent doesn't get paid next month. I've been in those situations, you probably have too. Sometimes it's worth it to quit, sometimes it's not. I'd have to think a free ride through college, with tutors and a support system, might be one of those situations where discretion is the better part of valor.
Bob Huggins, Coach K and Frank Martin can't suddenly change the way they motivate. It will be transparent and most likely fail. But yelling is a blunt instrument, and it can be backed by caring. Huggins showed where he's coming from last March, when he
knelt at floor level to console a badly injured Da'Sean Butler
. I believed then and still believe that Bob Huggins showed the world what's underneath that gruff exterior, and it's likely that most of his players feel that. Frank Martin has not yet had that moment, and it's entirely possible that he doesn't have it in him right now. Perhaps he'll mellow with age.
It will be interesting to see if it's all over but the shouting in Manhattan, KS.