The CAA always seems like a league on the verge of something big. George Mason (16-2), Old Dominion (14-4) and Virginia Commonwealth (12-6) have each pulled major upsets in the Big Dance over the past decade, and this season, they're joined in the league's top four by Hofstra (14-4). Being in the top four is important. Those are the programs that get a first round bye in the CAA tournament, which commences on Friday. Mike Litos, who authored a book about George Mason's run to the Final Four in 2006, has an immutable truism he applies to CAA teams: "You don't want to play on Friday".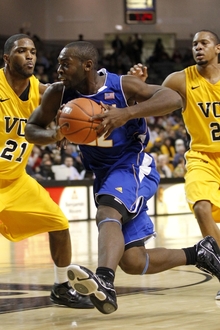 The CAA tournament is always held at the Richmond Coliseum, dead in the middle of the state of Virginia. Five of the league's 12 teams are from the surrounding area. Since 2000, only UNC-Wilmington has inserted itself into the round-robin of GMU, ODU and VCU when it comes to making the Big Dance.
Looking at this year's top four finishers, George Mason has been the most complete team, while Old Dominion relies heavily on defense and the massive inside presence of Frank Hassell. VCU is very athletic and plays a high-pressure style that can throw opponents for a loop. Perhaps the most intriguing is Hofstra, which has come on like gangbusters under first-year head coach Mo Cassara, thanks to the stellar play of Charles Jenkins (right). Jenkins is so good, he's already had his number retired at Hofstra.
Fans of league teams are calling for three CAA teams to make the Big Dance. Odds are, if the selection committee lets that happen, they'd get good-to-great games out of each team they let in. The CAA gets more televised Bracket Buster games than any other conference, and tends to win those high-profile matchups. League teams have also made a habit of beating the big boys anywhere at any time. Even fifth-place Drexel took down Louisville at the KFC Yum! Center this season.
Perhaps the time is ripe for a three-bid Colonial.

CAA tourney brackets

****
Title game: Monday, March 7, ESPN


BEST PLAYERS
Charles Jenkins,

Hofstra

Cam Long & Ryan Pearson,

George Mason

Frank Hassell,

Old Dominion

Conference RPI: 10
KenPom.com rating: 13
Sagarin rating: 11



NCAA Tournament Locks: Old Dominion, George Mason (8 seeds in the latest Palm predictions)
NCAA Tournament Bubble Teams: Drexel
Last NCAA Tournament Appearance:
George Mason: 2008 (68-50 loss to Notre Dame)
Old Dominion: 2010 (51-50 win over Notre Dame, 76-68 loss to Baylor in 2<sup>nd</sup> round)
Hofstra: 2001* (61-48 loss to UCLA)
Virginia Commonwealth: 2009 (65-64 loss to UCLA)
Drexel: 1996* (75-63 win over Memphis, 69-58 loss to Syracuse in 2<sup>nd</sup> round)
James Madison: 1994 (64-62 loss to Florida)
Delaware: 1999* (62-52 loss to Tennessee)
UNC-Wilmington: 2006 (88-85 OT loss to George Washington)
Georgia State: 2001** (50-49 OT win over Wisconsin, 79-60 loss to Maryland)
Northeastern: 2001* (101-66 loss to North Carolina)
William & Mary: N/A
Towson: 1991*** (97-86 loss to Ohio State)


*member of America East
**member of Atlantic Sun
***member of East Coast Conference
Photo: US Presswire

Posted by Eric Angevine