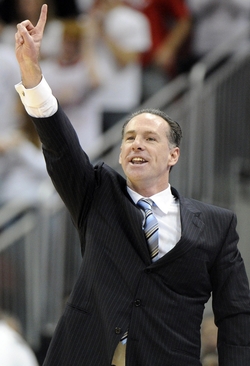 Posted by Eric Angevine

After being granted a contract extension, Sean Miller is staying at Arizona. That means the Pac-12 is safe from further upheaval for a while. The ballooning conference can focus on adding new teams and getting used to a new schedule without having to break in a new coach in Tucson.
That means the conference in the crosshairs now is the Big East, and why not? The always-tough league sent more teams to the NCAA tournament than any other conference this past season, and has become a hothouse for growing top coaches.
Three names come up most frequently now that Miller has withdrawn. Notre Dame's Mike Brey, Pittsburgh's Jamie Dixon and Villanova's Jay Wright are the clubhouse leaders in the search at this point. Each coach has a spotless profile and a bright future, but they're hardly identical.
Mike Brey is reportedly meeting with Maryland officials next
(though
Brey is saying otherwise
, natch, and
Gary Parrish confirms
) and he's a good choice. Brey's recent South Bend teams have been very efficient on offense, and Brey has done a masterful job of keeping his team relatively old. What does that mean? It means he uses redshirts wisely, so that when a player like Luke Harangody graduates, a player like Tim Abromaitis or Tyrone Nash is ready to step in and lead the team for another couple of years. Brey has a commanding presence, is well-spoken and would bring top-notch recruits to College Park. Brey is also from Bethesda, coached in the ACC as a Duke assistant, and has taken teams to the NCAA tournament nine times (Delaware twice and Notre Dame seven times).
Dixon, on the other hand, has been to the NCAA tournament eight times in just eight seasons as a head coach at Pitt. He's also 45, so he offers a younger version of the tough, grizzled coach Brey has become. Dixon has notched a 78 percent winning mark, which is better than Brey's total. He's never been to an NIT, and doesn't look to go that way any time soon. His teams are known for playing tough man-to-man defense, and he also brings in fantastic recruits. He just lost assistant Pat Skerry to Providence, so perhaps he'd like to make the leap to the well-known Delmarva recruiting grounds and nab an assistant who can help him return Maryland to national championship form.
Finally, there is Jay Wright. Wright, 49, is known for wearing nice suits and teaching a very guard-oriented offensive attack. His bombs-away style would be a pretty radical departure from Gary Williams' style, but that's not the worst news anyone ever heard. Wright has shown a propensity for building strong programs out of mediocre beginnings, as he did at Hofstra and then at post-Steve Lappas Villanova. Wright has been to the Final Four, which counts for a lot, but his follow up teams over the past two years have fallen progressively into the doldrums, with the 2009-10 version of the squad barely getting past Robert Morris and then being destroyed by St. Mary's, and last season's bunch barely making the field and bombing out immediately to George Mason. That apparent inability to capitalize on a supernova season has to hurt Wright's profile a bit. Nonetheless, he's the sort of coach who would bring a lot of hope to Maryland fans who are dying to get back to really competing with Duke and UNC on a regular basis.
Brey got the first look, but looks to be bowing out of this wide-open search. With a little patience, Brey could find himself as the successor to his former mentor Krzyzewski some day - a move that could be made easier if he's a Domer instead of a recent rival.
Dixon really seems like the gem of this bunch. He's younger, he's experienced amazing success in a short time as a head coach, and he did it at a school that hasn't always been an elite destination. Whether he considers Maryland to be a step up from that or a lateral move may determine whether he even seriously entertains the idea of leaving. At his age, and with his resume, he could easily wait for one of the nation's really plum jobs to open up. Or, he could continue to turn Pitt into one of the nation's plum jobs. Dixon's motives and thought processes are pretty opaque to the outside world. It'll be interesting to see which way he goes.
If the Terps really want a young tyro with Maryland ties, they could always follow the suggestion of instant legend Grievis Vasquez, who apparently supports a movement to draft
28-year-old Terps assistant Robert Ehsan
. It ain't gonna happen, but wouldn't that be bold?
Photo: US Presswire