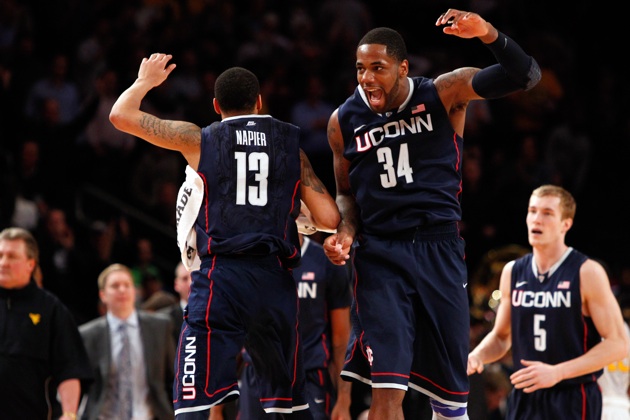 UConn's come-from-behind overtime win against West Virginia set up a quarterfinal showdown with Syracuse. (US Presswire)
By Jeff Goodman
NEW YORK - Two down, three to go.
It's already begun, with people tossing around the name "Kemba" after the UConn Huskies have reeled off two wins in the Big East tournament. It's in reference to last year's ridiculous run to the tourney crown, but this isn't the same team. Jim Calhoun knows it and so do veterans like Alex Oriakhi, who was around for last year's memorable five victories in five days.
That team was fun to watch.
This team is a complete enigma.
"We're just taking it one game at a time," Oriakhi said after the 71-67 victory. "It's been a tough year."
The Huskies were down nine points with less than four minutes remaining against West Virginia on Wednesday afternoon before Shabazz Napier did his best Kemba Walker impression -- going off in the second half to rescue UConn. He went for 22 of his 26 points after the break.
"It was looking ugly," Oriakhi added.
Now Calhoun, who has led his team to three straight victories since returning from back surgery, should be able to breathe easy when the NCAA Selection Committee unveils the bracket on Sunday. It would be difficult to imagine a scenario that doesn't have UConn in the field.
"I'm so proud of this team," Calhoun said.
For what?
This group has earned the 2011-12 title of "Ultimate Underachievers." The Huskies have a pair of likely lottery picks in Andre Drummond and Jeremy Lamb, in addition to a few more guys that could well be playing in the NBA one day. Sure, their Hall of Fame coach missed 11 games this season and freshman guard Ryan Boatright sat out two separate occasions due to an NCAA investigation.
"No excuses," Calhoun said.
UConn will face Syracuse in the quarterfinals on Thursday afternoon -- and a win against the Orange will bring more questions about a repeat of last season.
"There's no magic," Calhoun said. "It's just us."
Napier showed why he's the most important player on the UConn roster on Wednesday. He brings the consistent toughness to the table that's clearly lacking with Drummond and Lamb.
"We already felt like we're in the tournament," he said after the win. "We're trying to prove to ourselves. It's all about us."
The interesting aspect now for next week becomes whether the Huskies can pull of the upset of the Orange and move up to an 8-9 seed in the NCAA tournament.
Just imagine a matchup in the round of 32 between UConn and, say, a Kentucky or North Carolina.
But once again, we're starting to get ahead of ourselves -- just as some were doing at Madison Square Garden on Wednesday.
"It way too early," Oriakhi said. "Let's not get ahead of ourselves."