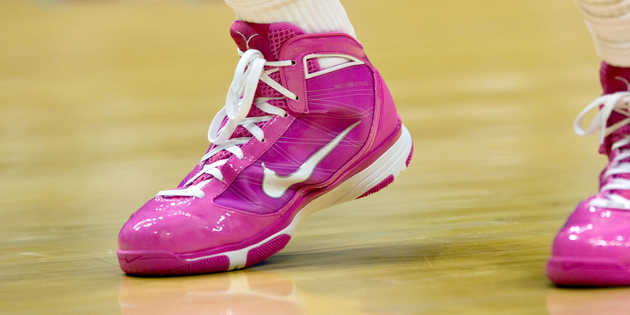 Posted by Eric Angevine


Jimmer Fredette and the BYU Cougars are planning to wear pink sneakers tonight. The color scheme could, quite frankly, be ugly, but the reason for it is beautiful.
Jay Drew of the Salt Lake Tribune gives us the scoop:
In other BYU basketball news, the school announced that the Cougars will wear pink shoes and the coaching staff will wear sneakers against CSU to promote cancer awareness and to support BYU women's basketball player Alexis Kaufusi, who is battling cancer.

"Our players and our staff want Alexis to know that we are thinking of her during this difficult time," BYU head coach Dave Rose said in a school news release. "Our thoughts and prayers are with her and her family as she fights this terrible disease. We wish her the very best as she goes through her treatments."

Colorado State coaches will also participate in the event by wearing tennis shoes. When BYU played at Colorado State earlier this season, both coaching staffs wore tennis shoes in support of the fight against cancer.

There may be no other team that feels the battle against cancer more keenly than BYU -- N.C. State is the other that leaps immediately to mind -- not only because of Kaufusi's battle, but also because memories of coach
Dave Rose's battle with pancreatic cancer
are still fresh.
So far, Rose has been lucky. His conversations with his doctor have moved from immediate concerns to his outlook
15 or 20 years down the road
. No doubt, he and his players would like to make sure more cancer patients in their community have that positive conversation.
Aside from the pink shoes, this is a huge game for both teams in basketball terms. Colorado State is a rather distant third in the Mountain West with an 8-4 record. They have a couple of good wins from the non-con season -- over Ole Miss and Southern Miss -- but have fallen off the pace in league play. With three road games left, including a season-ender at San Diego State, their road to an NCAA-worthy resume is tough as nails, but nobody can say they lack opportunities.
For BYU, the issue is momentum. Heading into Saturday's visit to San Diego, the Cougs have a chance to sweep the season series with the Aztecs and put themselves on the inside track for a No. 1 seed in the Big Dance. At bare minimum, top seed in the MWC postseason clash is at stake. This is rare air for the Cougars, and the MWC conference as a whole. That balloon deflates with an audible pop if they lose to the Rams tonight.
Colorado State plays at Brigham Young tonight at 8:00 p.m. Regional coverage is provided by the
MountainWest Sports Network
. If you're not one of the lucky few who get the Mtn., be sure to follow the action via our CBS GameTracker.
Photo: US Presswire