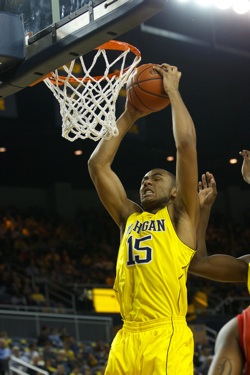 On the surface, an injury to a player averaging just over 10 minutes per game wouldn't seem like a big deal. When it's the only backup big man, though, it becomes a problem.
That's what Michigan faces going forward, as a stress fracture in Jon Horford's right foot will keep him out an extended period of time.
"The plan is for next week to have one close look at it to see if there is progress, but we don't expect any," head coach John Beilein told the Detroit Free Press. "If we feel the rest of his season is in jeopardy it doesn't make any sense [to bring him back]."
Horford, a 6-foot-9 sophomore, was the primary backup down low for center Jordan Morgan. He was averaging just 2.7 points, but grabbed an efficient 3.6 rebounds and was also the team's leading shot-blocker.
Horford had missed the last three games, but came up big in Michigan's two biggest wins of the year. He had six points, six rebounds and four blocks against Memphis, and 12 points, seven boards and three blocks vs. UCLA.
With Horford on the mend, Beilein will need more minutes down low from Evan Smotrycz, a natural forward who can also step outside. 6-foot-10 sophomore Blake McLimans has seen more minutes the past few games.
"It shortens [the rotation] quite a bit," Beilein said. "We've got to make sure we have the right depth."
Michigan is 10-2 so far this season, and kick off Big Ten play Thursday night against Penn State.
Photo: US Presswire