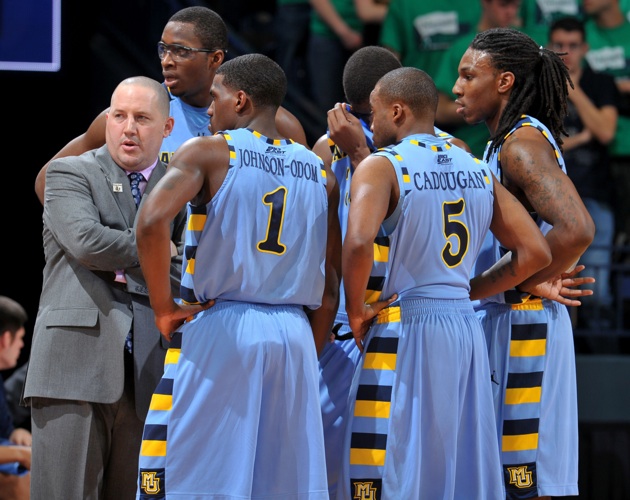 Posted by Jeff Borzello
Wednesday marked the first day in a five-day stretch where the bubble and at-large picture will change on a near-hourly basis. With the BCS-conferences kicking off their league tournaments, several teams face must-win situations and others need to search for a marquee victory. This is the last impression many bubble teams will get to make on the committee – they need to take advantage. By the time Saturday afternoon rolls around, many of the fringe bubble teams will have weeded themselves out, while at least two or three bubblers will become locks after a couple of wins. Take a look at the winners and losers of Wednesday, as well as what games matter the most for Thursday.
Winners:
Marquette: The Golden Eagles punched their ticket to the NCAA tournament, beating West Virginia and becoming the 11th lock from the Big East. They now have five top-25 wins on their resume, improving to 20-13 overall. Without any sub-100 losses and an improving computer profile, Marquette has a chance to pass Villanova on the S-curve with a win over Louisville today.
Colorado: The Buffaloes couldn't afford another bad loss – and they barely escaped Iowa State, needing late-game heroics from Alec Burks to get the win. The victory doesn't improve Colorado's profile; it simply doesn't ruin it. With a third game coming up today against Kansas State, the Buffs can punch their ticket. As it stands right now, Colorado would be in. It has five top-50 wins and wins in five of its last seven.
Missouri: Because of the soft bubble, the Tigers were likely locked into the NCAA tournament regardless of their Big 12 tournament performance. However, they avoided some serious stress on Selection Sunday by hanging on to beat Texas Tech. Had Missouri lost to the Red Raiders, the terrible road record and lack of big wins would have been analyzed more closely.
Losers:
Nebraska: The Cornhuskers needed to make a run to the Big 12 title game in order to have a chance; they didn't even get out of the first round. A turnover by Lance Jeter on the final possession against Oklahoma State will relegate Nebraska to the NIT. A poor finish and a terrible non-conference resume will be too much to overcome.
Baylor: Without Perry Jones, not too many people expected the Bears to make the requisite run they needed to get an at-large bid. But getting blown by Oklahoma was a surprise. Baylor can now settle the debate of the most disappointing team in the country – at least Michigan State has a chance of making the NCAA tournament.
Thursday's bubble games to watch:
Boston College vs. Wake Forest: The Eagles are fourth in the ACC pecking order right now; a loss here would send them packing. A win sets up a potential play-in game against Clemson.
Virginia Tech vs. Georgia Tech: After last week's disaster of a performance, the Hokies need to win two games in the ACC tournament. A win over the Yellow Jackets will pit Tech against Florida State.
Michigan State vs. Iowa: The Spartans have already lost to the Hawkeyes once, although they did enact some revenge with a blowout win late in the season. Michigan State obviously needs to win this one to set up a quarterfinal match-up against Purdue.
Penn State vs. Indiana: The Nittany Lions have some good wins, but 13 losses is an eyesore. A run to the title game might be necessary – it starts against the Hoosiers, and could continue in the quarterfinals against Wisconsin.
Colorado vs. Kansas State: Colorado avoided a bad loss against Iowa State, and now could lock up a bid with a third victory over Kansas State. A loss here and the Buffaloes could be in trouble.
Memphis vs. Southern Miss: The Tigers probably have the best at-large profile in the conference, but they finished two games out of first place. They need to knock off a very good Southern Miss team, and then also likely beat UAB in the semis to have any semblance of a chance.
UAB vs. East Carolina: The Blazers don't have a tremendous profile in terms of wins, but they did win Conference-USA outright and have very nice computer numbers. A run to the title game could get them consideration – a victory over East Carolina is a must.
Colorado State vs. New Mexico: Neither team has much of a case at this point, but if one were to reach the championship game, we can revisit their profiles. The loser is done.
USC vs. California: The Trojans stayed on the bubble with a win last weekend at Washington, but will need to pick up two wins in the Pac-10 tournament. A victory over the Golden Bears will likely bring a date with top-seeded Arizona.
Washington vs. Washington State: This could be a monster game. Washington needs a win to truly feel comfortable about its at-large hopes, while Washington State could get right back into the hunt with a big win over the Huskies.
Georgia vs. Auburn: The Bulldogs lost to Alabama in the season finale, but need to beat Auburn in order to gain a rematch with the Crimson Tide in the quarterfinals. That contest will be a de facto play-in game, but Georgia needs to get there first.
Tennessee vs. Arkansas: Given the terrible bubble, the Volunteers simply have too many good wins not to get a bid. A win here would end all doubt, though.
Photo: US Presswire