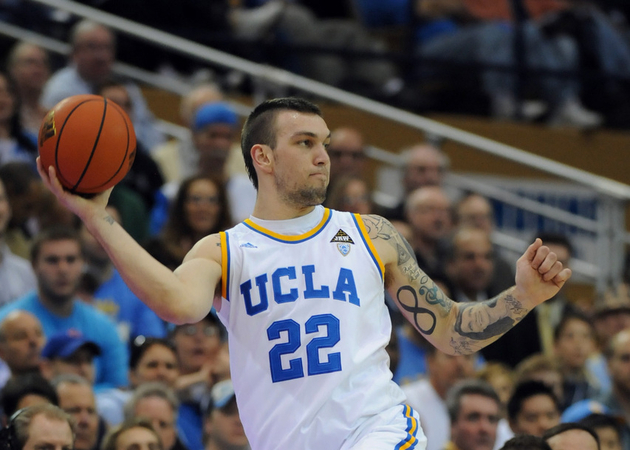 Posted by Eric Angevine


Well, hello, Reeves Nelson. We didn't see you over there. We were too busy looking at Derrick Williams, way up there at No. 10 in the nation with his Arizona Wildcats.
By the way, is that an 8 on your arm, or infinity? Guess it's all in the angle. Right now, most of us are looking up at your arms raised in victory, so i guess it's a numeral for now.
The Pac-10 continues to be an unpredictable, streaky conference, and it's working to the advantage of the blue-blood Bruins this time around. First Washington flamed out from their priveleged position atop the league, and now Arizona has suffered two unexpected losses, allowing UCLA to move into a tie for first place.
Nelson had 27 points and 16 rebounds to lead UCLA to a stunning 71-49 drilling of the Wildcats in Pauley Pavilion. If you think that's the end of things, imagine how the Pac-10 tournament could change this picture.
The Bruins must go on the road to finish the season, traveling to Washington and Washington State. Arizona gets to stay home and welcome Oregon and Oregon State.
Regardless of which team comes out on top over that time period, it's become more than obvious now that we can't take anything for granted in the Pac-10. Last season, Cal and Washington came out of the scrum with tourney bids. This year, it's the traditional powers taking the inside track once again.
The UCLA victory over St. John's looms larger, as the Red Storm moved into fourth place in the Big East after a big road victory today. If you like your hoops to bear a certain old school patina, you must be in heaven right now. Can't wait to see what this final week of the season brings, but an NCAA bid for Ben Howland's boys seems like a pretty strong bet right now.
Photo: US Presswire