The Atlantic 10 conference tournament is currently a nightmare for the last teams on the bubble. Friday's action was something of a perfect storm for fans of bid thieves, as the A-10 featured multiple upsets. No matter what happens on Saturday, the league will have one of the most intriguing title games come Sunday.
Dayton and Xavier kicked Friday off in impressive fashion, with Dayton jumping out to an early lead over the regular-season champion. Xavier came back, only to see Luke Fabrizius hit two foul shots with six seconds left to give Dayton the win. Shockingly, the ninth-seeded Flyers will face No. 12 Saint Joseph's in the semifinals. The Hawks defeated Duquesne in overtime, 93-90, behind 28 points from Carl Jones.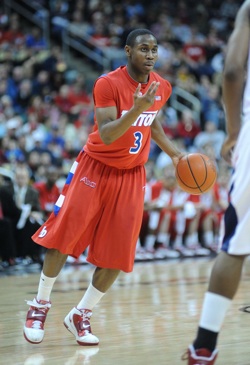 The bottom of the bracket was far more normal, with Richmond and Temple both advancing. The Spiders kept their at-large hopes alive by beating Rhode Island, while the Owls dominated La Salle to cruise into the semifinals.
Dayton (9) vs. Saint Joseph's (12): The Flyers came into the season as one of the favorites in the Atlantic 10. They have been a disappointment for the most part, but they are just two wins from rectifying the situation and getting to the NCAA tournament. Saint Joseph's struggled all season, having two separate losing streaks of at least six games. The battle at the point guard position will be entertaining, with Carl Jones of SJU going against assist extraordinaire Juwan Staten. The Hawks might not have the frontcourt personnel to battle with Dayton's Chris Wright and Marcus Johnson.
Temple (2) vs. Richmond (3): A rematch of the Spiders' last loss, a 20-point defeat on the road. Richmond has done what it needed to do in order to stay in the at-large race: avoid bad losses and continue to win. A win over the Owls would likely clinch a bid. The key for Richmond will be its ability to knock down the 3-pointer. Temple is vulnerable on the perimeter, and the Spiders make a killing behind the arc. On the other side, Richmond needs to keep Lavoy Allen off the offensive glass. The battle on the perimeter between Richmond's Kevin Anderson and Temple's Juan Fernandez will also be fun to watch.
Updated Atlantic 10 Tournament Bracket
Photo: US Presswire
Posted by Jeff Borzello