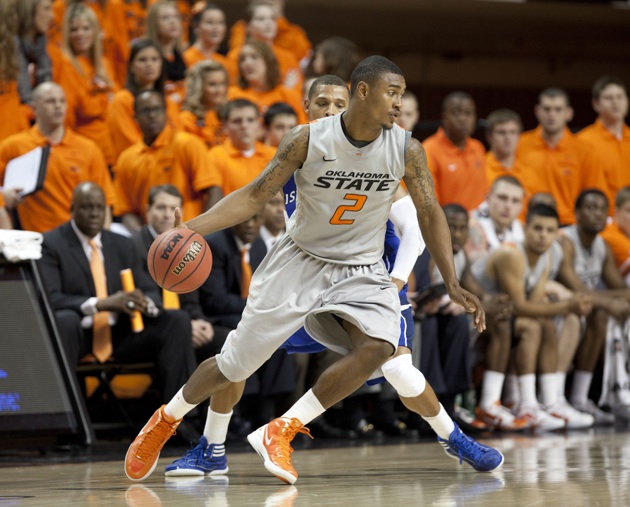 Le'Bryan Nash has been up and down, but 27 points in an upset of Missouri cemented his spot in the rankings. (US Presswire)
The top freshmen in the country have been pretty stagnant lately, with the top four staying the same for the most part the past few weeks. Even the back end of the rankings didn't see much movement this week – and it's because many newcomers are beginning to hit a bit of a wall in conference play. They're becoming more inconsistent, as teams key on them and organize defenses to stop them. It seems every time we look to add a player to the rankings, he goes out and struggles immensely. Consistency will be the key going forward.
The Freshman of the Year rankings are released every Thursday afternoon, shortly after Jeff Goodman and Gary Parrish's Player of the Year rankings.
1. Anthony Davis, Kentucky (Last Week: 1): 13.2 ppg, 10.3 rpg, 4.7 bpg, 62.9 FG%
Davis didn't have his best offensive week the past two games, going just 3-for-12 from the field for 15 total points. He's still a menace defensively and on the boards.
2. Michael Kidd-Gilchrist, Kentucky (Last Week: 2): 13.2 ppg, 7.6 rpg
Kidd-Gilchrist was up to his old tricks against Alabama and Georgia. He had a great first half against Alabama, before fouling out, and had a solid all-around effort against Georgia.
3. Trey Burke, Michigan (Last Week: 3): 14.1 ppg, 3.7 rpg, 5.0 apg
Burke's shooting has fallen off the past two games, going just 9-for-29 from the field. However, his playmaking and passing has been better, averaging 6.0 assists in that span.
4. Cody Zeller, Indiana (Last Week: 4): 15.1 ppg, 6.4 rpg, 65.9 FG%
His performance against Penn State over the weekend was vintage Cody Zeller: 7-for-8 from the field, 18 points, four blocks – and four rebounds.
5. Moe Harkless, St. John's (Last Week: 7): 15.6 ppg, 8.3 rpg
Harkless had one of the better freshman weeks in the country. He went for 23 points and 13 boards against West Virginia, following a great all-around game against Villanova.
6. Brad Beal, Florida (Last Week: 6): 14.1 ppg, 6.1 rpg
Beal has been a bit passive the past couple of games, but he's been efficient. The 3-pointer has returned, too; he's 7-for-13 in his last three games from behind the arc.
7. Le'Bryan Nash, Oklahoma State (Last Week: 8): 13.2 ppg, 4.9 rpg
Nash is still too inconsistent, but he bounced back from a four-shot performance against Kansas State with 27 points, four boards and four assists against Missouri.
8. Tony Wroten, Washington (Last Week: 5): 16.8 ppg, 4.5 rpg, 3.3 apg
Wroten has been erratic shooting the ball lately and his turnovers are on the rise again. He's much better when he's creating off the dribble.
9. Austin Rivers, Duke (Last Week: NR): 14.2 ppg
He started the game against Wake Forest on the bench; it clearly woke him up. He's averaging 16.3 points in his last three games, shooting 5-for-12 from 3-point range.
10. Tony Mitchell, North Texas (Last Week: NR): 15.2 ppg, 9.0 rpg, 63.1 FG%
The Mean Green lost on Wednesday night and Mitchell was in foul trouble, but he's dominating the Sun Belt. Went for 30 points and 17 rebounds over the weekend.
Notes:
Justin Edwards of Maine dropped out from his second turn in the mid-major slot. He's had subpar offensive performances the mpast three games, shooting just 14-for-34 from the field, with 17 turnovers.
Rutgers' Eli Carter has fallen off a bit, regressing back to his season averages. He's putting up 10 points per game in his last four. He also dropped out.
Based on stats, Georgetown's Otto Porter wouldn't be anywhere close to the rankings. But he does the little things – like coming up big down the stretch vs. Rutgers – that make him a candidate every week.
Baylor's Quincy Miller might have been the last one off the list. He averaged 22.3 points in a three-game stretch, but had just five against Oklahoma.
Notre Dame's Jerian Grant averaged 13 points and five assists in wins over Syracuse and Seton Hall. For a guy who didn't play the point in high school, his vision and playmaking have been exceptional.
Michigan State's Branden Dawson has been extremely efficient the past two games, shooting 13-for-17 from the field and averaging 15.0 points.
D'Angelo Harrison of St. John's is looking to work himself back into the discussion. He's averaging 23.5 points in his last two, shooting 14-for-30 from the field.
Still waiting for Andre Drummond to step up and dominate. He was completely neutralized against Cincinnati and Tennessee.
Rough go for Xavier's Dezmine Wells the past two games. He was shut out against Saint Louis, after managing just five points against Dayton.
Juan'ya Green is the Niagara frosh that gets the most attention, but what about Antoine Mason? He's a redshirt freshman and is averaging 15.1 points this season.
Louisiana Tech's Raheem Appleby has stepped up his game tremendously lately. He's averaging 19.0 points in his last five games.
Freshman leaders – Points: Kyle Vinales Central Connecticut State (18.6); Rebounds: Anthony Davis, Kentucky (10.3); Assists: Dylan Garrity, Sacramento State (6.1)