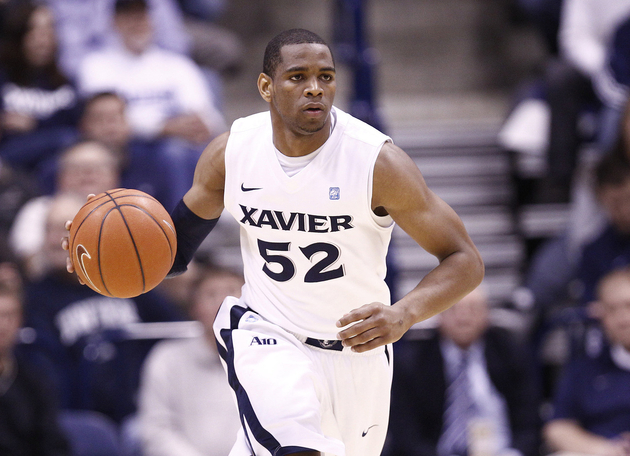 Posted by Eric Angevine


The Xavier Musketeers have a nice streak going. They've made the Sweet 16 for three straight seasons. The only other team that can say the same is Michigan State. With the Spartans unlikely to even get a chance to repeat the feat, don't be surprised if the Musketeers make it a four-year habit.
Xavier's 66-62 road win over Dayton today was fueled -- as so many Xavier wins are -- by a phenomenal all-around game by Tu Holloway (above). The junior guard from Hempstead, NY repeatedly made the plays that staved off a late rally by the Flyers, dropping in a three-pointer off the dribble with 45 seconds left to give the visitors a five-point lead, then calmly knocking down the final free-throws that slammed the door on Chris Wright and company.
Holloway's final line looked like this: 26 points, 6 boards, 5 assists and 2 steals. He was tops in each category for his team, and was not flagged for a single personal foul in his 40 minutes of play.
Holloway is the superstar, but Xavier is a threat to make a deep run in March because of a balanced attack. 6-foot-8, 245-lb. senior Jamel McLean and 7-foot, 269-lb. center Kenny Frease carry the load inside, Mark Lyons distributes the ball (whenever Holloway isn't doing that, too), and 6-5 Dante Jackson throws in whatever's needed: scoring, defense, rebounds or assists on any given night.
The Musketeers have a short bench, which could be a problem if they have another epic battle in extra periods like they did with K-State last season, but for now, Jeff Robinson and Andrew Taylor get what few relief minutes there are, and they handle the load just fine.
With Temple just one game back, and two tilts left in the regular season, it's too soon to declare Xavier the A-10 champ just yet, but there's little doubt that Chris Mack has once again put his Musketeers in a position most power conference teams would envy. All the pieces are there for yet another Sweet 16 run.
Photo: US Presswire