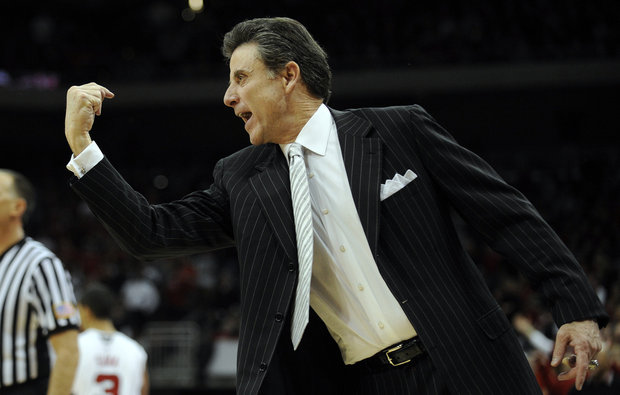 By Matt Norlander
The Big East intra-conference schedule was released yesterday. Here's what Rick Pitino had to say about it:
"We have one of the premier commissioners in athletics, but whoever's doing our scheduling must be doing it with a Ouija board. How can you play two of the top three (projected) teams in the league twice and have to play another top team that's a rival game (at Cincinnati) on the road for a second straight year? It just doesn't make any sense to me. West Virginia has a similar argument. They must be doing it with a Ouija board."
OK, that was in
Louisville's press release
. Crafted by the school and looked over by a few people before it was shot out to the public. And that's the quote Pitino chose to supply and the school was cool going with.
All I can say is ... awesome.
If
that
was the quote that was allowed, then Pitino must be really pissed. Without the filter of Louisville's athletic department offices, who knows what sort of disgust Pitino would have spit had a reporter got him one-on-one. By the way, here's Louisville's schedule: home games against Connecticut, DePaul, Georgetown, Notre Dame, Pittsburgh, Rutgers, USF, Syracuse and Villanova; on the road versus Cincinnati, DePaul, Marquette, Pittsburgh, Providence, St. John's, Seton Hall, Syracuse and West Virginia.
Yeah, it's tough,
but not the toughest
. Look at that link, and you'll see other schools who have harder 18-gamers within the conference. And,
to channel Dan Hawkins
, it's the Big East! Tough games are coming, and the better you are and more high-profile you are, the more rigorous the schedule, generally, because TV dictates a lot of what goes on here. Pitino and Louisville are big sells. He knows that.
This is his only way of fighting back. Let's wait and see what the non-conference schedule looks like for Louisville, when the school releases it in a few weeks. If it's loaded, we'll know why Pitino's got his britches in a bunch. If it's weak, then this is nothing more than whining.
Photo: AP