Posted by Jeff Borzello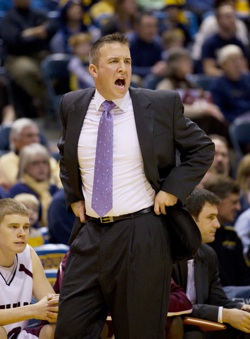 There were no 52-point performances or buzzer-beaters in bubble games, but Thursday had some highlights. Three teams clinched regular-season titles, while another one clinched at least a share of the league championship. Bubble teams won, bubble teams lost. There were upsets and close finishes. What more can you ask for? Reach me on Twitter: @jeffborzello
Standing Ovation: Centenary went into last night with an 0-28 record, losers of 33 straight games. The Gentlemen would have been the first 0-30 team in college basketball. Somehow, though, they shot 62.5 percent from the field and defeated Western Illinois, 73-60. Maxx Nakwaasah scored 24 points to lead Centenary, who will be dropping to Division-III next season.
Top Performer: Arizona had a chance to give itself some breathing room atop the Pac-10 heading into the weekend, but Nikola Vucevic had other ideas. The USC big man had 25 points and 12 rebounds to lead the Trojans to a 65-57 win at home. He was 9-for-17 from the field, as well as 7-for-7 from the free-throw line. Defensively, he helped hold All-American Derrick Williams to just eight points.
Round of Applause: Four teams clinched NIT automatic bids last night, although I'm sure they will be more excited if they win the conference tournament. It started with Florida Atlantic defeating Troy to clinch the Sun Belt; then George Mason had a closer-than-expected win over Northeastern to win the Colonial; and Long Beach State followed that up with a win over Cal Poly to win the Big West. In the Big South, Coastal Carolina clinched the title with Liberty losing at Winthrop.
Stepping Up: Gonzaga was left for dead a few weeks ago, but it is now one game from getting a share of the WCC title after going on the road and beating Saint Mary's in overtime. Expect the loser of the WCC Tournament to be right on the cut line come Selection Sunday. Last night, Sam Dower came through for the Bulldogs, hitting his first seven field-goal attempts and finishing with 21 points.
Stat-Sheet Stuffer: Charleston was another team that didn't capitalize on its opportunity to clinch a regular-season title on Thursday. Appalachian State's Donald Sims had a say in that. Sims put up 32 points on six 3-pointers, also grabbing five rebounds and dishing out six assists. The Mountaineers knocked off Charleston, 85-70.
Yawn: Just like Jimmer Fredette putting up another 30-point performance, it's become expected that Oakland's Keith Benson will put up gaudy scoring and rebounding stats. He did just that against UMKC last night, finishing with 26 points and 14 rebounds, also adding three blocks on the defensive end.
Dishing it out: Montana took one step closer to a Big Sky title last night, going on the road and beating Portland State by one, 85-84. Will Cherry led the way for the Grizzlies, scoring 24 points and racking up 10 assists (with only one turnover). He knocked down two 3-pointers and also grabbed three rebounds. More importantly, Cherry iced the game from the free-throw line in the final seconds.
In a Losing Effort: It wasn't a losing effort, but I have no clue what Washington Adventist is, so I'm counting Longwood's win as a de facto loss. With that said, center Antwan Carter put up some huge digits. The Longwood big man went 14-for-20 from the field en route to a 33-point, 20-rebound night. Five of his boards were on the offensive glass, and he was 5-for-7 from the free-throw line.
Filling it up: Normally when a player who has scored in double-figures just 10 times all season explodes for 34 points, it's because he got hot from 3-point land. Fairleigh Dickinson's Terence Grier dropped 34 in a win at Sacred Heart, snapping the Knights' 11-game losing streak. Grier hit four 3-pointers and two free-throws – the other 10 field-goals came from inside the arc. Not bad for a 6-foot guard.
Dub-Dubbing: In a battle for second-place in the Summit, Oral Roberts completely dominated IUPUI, getting a 92-74 win. It was the Golden Eagles' seventh straight win heading into the finale. The leader for ORU was Steven Roundtree, who was 10-for-12 from the field and 7-for-8 from the free-throw line, finishing with 27 points and 12 rebounds, six coming on the offensive end.
Backyard Brawl: An injury to back-up big man Talib Zanna didn't slow down Pittsburgh, as the Panthers emerged victorious in the Backyard Brawl, downing West West Virginia by 13. Brad Wanamaker had 11 points, seven rebounds and eight assists to lead the Panthers. As for West Virginia, the Mountaineers dropped to 8-7 in the Big East – they could end up finishing 10th in the league.
Bonus Basketball: Marquette faced a must-win situation heading into Connecticut last night, and the Golden Eagles finally came out of a close game with a win. Darius Johnson-Odom scored nine of his 17 points in overtime to lead Marquette to a 74-67 win over the Huskies, who were playing without Jim Calhoun on the sidelines. Kemba Walker had 27 points, but struggled mightily late in the game.
Set the DVR: Don't set your DVR tonight. Do non-basketball things. But if you must, make sure Harvard and Princeton keep winning.
Numbers Don't Lie:
Pittsburgh has now won 25 games in six straight seasons.
Derrick Williams' eight-point performance was the first time he was held in single-digits this season.
Florida's six-game SEC winning streak is its longest since 2007.
Kemba Walker is the first player since Ben Gordon and Emeka Okafor to score 600 points in a season. He has 622 points.
Notes and Notables:
Florida picked up its ninth top-50 win of the year, holding off Georgia at home, 71-62. Chandler Parsons had 16 points, while Kenny Boynton dropped 18. Georgia sits squarely on the bubble.
Old Dominion just needs to avoid bad losses in order to get an at-large bid, and the Monarchs handled their business on Thursday, beating James Madison on the road, 75-59.

Penn State has very slim hopes for an at-large bid, but the Nittany Lions got back to .500 in the Big Ten with a 14-point road win at Northwestern.
Morehead State vs. Murray State was supposed to be one of the better mid-major games of the year, but Murray had a 17-2 run to begin the second half and never looked back. The Racers clinch the top-seed in the OVC Tournament.
With Milwaukee beating Cleveland State and Valparaiso losing, there is now a three-team tie for first-place in the Horizon, with Valpo one game back. If Milwaukee wins this weekend, it will get the No. 1 seed and a double-bye.
Photo: US Presswire (Adam Woods)