One of the biggest complaints about the college basketball season is the lack of a marquee kickoff. There is no Thursday night game between two top-10 teams, or a triple-header of historical programs.
For the past couple of seasons, the unofficial start to the campaign has been the 24-hour marathon televised by ESPN. It comes about a week after the season actually begins – on Tuesday, Nov. 15 this year – but the all-day festivities bring the casual fans that forgot college basketball was upon us. This year doesn't have as many great games as a year ago, but there's certainly enough to keep your attention.
As for me, I'll attempt to stay up the entire marathon again. I was able to do it last year, but that was a last-minute decision and I wasn't really prepared. For those who don't want to stay awake for upwards of 30 hours in a row, we have a handy viewer's guide – ranked by eyeballs. Five eyeballs for must-watch matchups, one eyeball for nap time.
Midnight: Washington State at Gonzaga: It's the first game of the marathon, so it shouldn't be too hard to stay up for it – especially the West Coasters. Moreover, Gonzaga should be a top-25 team and Washington State returns Reggie Moore and Faisal Aden. Four Eyeballs
2 a.m.: Northern Iowa at Saint Mary's: Two of the best non-BCS programs on a yearly basis. Northern Iowa only has one starter back, but Saint Mary's is loaded once again. Three Eyeballs
4 a.m.: South Alabama at Hawaii: The toughest time slot on the docket, and two teams that aren't exactly crowd-pleasers. Hawaii was involved in one of the best games in the marathon last year, though. One Eyeball
6 a.m.: Drexel at Rider: Both teams were solid last season, with each winning at least 20 games. Drexel has the inside-outside duo of Chris Fouch and Samme Givens, while Rider gets the services of Virginia transfer Jeff Jones. Two Eyeballs
8 a.m.: Morehead State at College of Charleston: No Kenneth Faried or Andrew Goudelock anymore, so it will be interesting to see how each team bounces back. Two Eyeballs
10 a.m.: Kent State at West Virginia: Could this be an upset possibility? Kent State is consistently good in the MAC, and West Virginia will be a very young team this season. Three Eyeballs
Noon: Belmont at Memphis: This might be the best weekday noon game until conference tournaments. Belmont returns four starters from a 30-win team, and Memphis is likely to be ranked in the top-10 by some. Four Eyeballs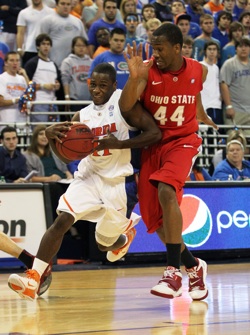 2 p.m.: San Diego State at Baylor: If San Diego State still had its frontcourt from last season, this would be a dandy. Instead, a rebuilding Aztecs team takes on a Baylor group that has as much talent as anyone. Three Eyeballs
4 p.m.: Rhode Island at Texas: No one really knows what to expect from either team. Rhode Island loses its top two scorers, but brings in a good crop of newcomers. Texas will look completely different from last year. Three Eyeballs
6 p.m.: TBD at Virginia Tech: Without knowing the opponent, I'm just going to throw two eyeballs out there. This might be the only time to get dinner before the string of marquee matchups come at night. Two Eyeballs
7 p.m.: Duke vs. Michigan State: Arguably the two most successful coaches and programs in the past decade go head-to-head. Duke will have more talent on paper, but Draymond Green and Delvon Roe return for Michigan State. Five Eyeballs
8 p.m.: Florida at Ohio State: By far the best game of the marathon, as both teams are expected to have top-10-caliber clubs. Florida is loaded on the perimeter, but Ohio State will counter with Jared Sullinger inside. Five Eyeballs
9 p.m.: Kentucky vs. Kansas: Two of the most rabid fanbases in college basketball will surely revolt if I don't give their game five eyeballs. Kansas is reloading, and an already-loaded Kentucky team could be a tough test so early. Five Eyeballs
10 p.m.: Austin Peay at California: Don't sleep on this game, literally and figuratively. California has been thrown around by some as a potential Pac-10 sleeper, and Austin Peay returns nearly everyone from a 20-win team. Three Eyeballs
11 p.m.: TBD at Stanford: I don't really know what to tell you here, other than Stanford better have a worthy opponent or most people won't make it to the second half. Eyeballs TBD
TBD: TBD at No. 4 Syracuse: A chance to see a top-five team is certainly worthy of a viewing, but it depends on the time and opponent. Eyeballs TBD
TBD: Arkansas Pine-Bluff at Oklahoma State: You do get an opportunity to see freshman LeBryan Nash, but this isn't really catching anyone's attention. One Eyeball
Here's the complete schedule: 2011 College Hoops Tip-Off Marathon

Photos: US Presswire