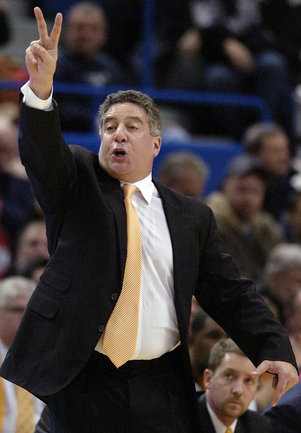 Posted by Matt Norlander
HARTFORD, Conn. — This was not a special occasion.
Tennessee coach Bruce Pearl, who got an unprecedented reprieve amid an unprecedented punishment, treated his preparation, his in-game coaching and execution, and the postgame interviews like he has for the majority of his head-coaching career: with eye-bulging passion and a hoarse voice.
"Believe it or not, it didn't feel that different," Pearl said after his team's 72-61 loss at Connecticut Saturday.
The odd circumstance surrounding Saturday's game against the 16-2 Huskies — Pearl is serving an eight-game suspension within the SEC, meaning coaching an out-of-conference game wasn't against the rules — meant the focus in the XL Center was on Pearl despite the fact UConn improved to an unpredicted 12-0 non-conference record.
After a loss in a game that clearly got away from his team, Pearl, a man known for his vibrancy and sense of humor, once again addressed his eight-game suspension with a serious tone.
"It's a very serious penalty," he said. "Eight league games is — you know, one league game can be the different between seedings or even getting in the tournament. It's significant. It's fortunate in the sense that I'm suspended for those games but not for the preparation or the practice."
But the questions Pearl got about his brief return, how it felt to be back, all that — it didn't much matter to him. He coached a losing team, which dropped to 12-7 on the year and embodies a Pearl signature: fun group, but incredibly inconsistent.
You think Pearl would've taken a 2-1 record against the Big East (Tennessee defeated Villanova and Pittsburgh) before the season started? Absolutely. And in November, who would've guessed the one loss would be to UConn? What's more, the Vols held UConn's Kemba Walker to a season-low 16 points (though Walker did dish out seven dimes, his second-highest total of the season).
Connecticut coach Jim Calhoun and Pearl embraced in the immediate postgame handshake line, then had a few additional, personal words of encouragement for each other once again just before splitting off and heading to their respective locker rooms. The two men can clearly empathize and identify with each other. Both had plenty speculate about their job security. Both had plenty of people call for them to lose their jobs.
Many still believe they should.
But for a day, both coaches got to scream their throats off, perhaps in an effort to not only coach their teams, but release some stress. Calhoun is also awaiting judgment from the NCAA, after all. After the game, Pearl stood up for his fraternity brother, praising Calhoun's ability to coach his team in all the right areas.
"Jim does a great job putting guys in positions to be successful," Pearl said. "He's as good as anybody in the business at knowing what he has, knowing their strengths, knowing their weaknesses."
After Pearl left the podium in the media room, Calhoun returned him the same sort of favor.
"Out of the 18 games played, it was far and away the best team effort against a quality opponent," Calhoun said. "I don't think it's even close."
Remarkably, the Huskies were able to win this game despite Walker's low-scoring night because four UConn players reached double-digits. Above anything else, perhaps that was the most unpredictable part of the day for Pearl.
"I thought, if you told me that (Alex) Oriakhi had 12 — if we could hold him and Walker down — that we could win the ballgame," Pearl said. "That we could have a really good defensive effort. But those other guys, (Jeremy) Lamb and (Roscoe) Smith, stepped up."
For the Tennessee players, this was another game, not one of particular unique variety, even if it was non-conference and their head coach was back in the fold. Yes, Pearl's presence was welcomed and helpful, but senior guard Melvin Goins said the biggest affect their coach's suspension on the team came earlier this year.
"In the locker room (now) it hasn't impacted us too much," Goins said. "It's reality now. Before, when it was all talk, yeah, it probably impacted us more, just the suspense building up to it."
Goins added the team has shown its fortitude by winning games without Pearl on the sideline, as it did this past week at home against Vanderbilt and on the road against Georgia. But it's clear. The players know it. Going forward, it's going to take much more than just what Pearl brings to a timeout huddle or pre-game speech.
"Just to know we're a good team and some of the games we're losing are things we can control, that makes it even tougher," Goins said.
Goins is clearly feeling pressure to be a leader now. He can handle it, but in the games Pearl is not there, the absent energy from the coach is attempted to be supplemented by Goins. That's something the senior guard puts on his shoulders without pressure or open expectation from anyone else.
"When he's not there, I have to do my job and overdo my job and get us going and try to bring that energy and that energy and that spark to our team that keeps us in high spirits," he said.
Goins' good play or not, the problems linger. With or without Pearl, they're a fast, athletic, energetic … and terminally frustrating group. They show the capability of playing — and beating — the best teams in the country. At other times, the performances are so disenchanting. Despite UConn's newfound ability to win with a number of players and prove itself as a legitimate top-15 nationally, Goins said his team's performance today was that of an ordinary squad.
"From my standpoint, I think it's just a lack of focus," Goins said. "We'll go out, we'll be real focused, real engaged … and we'll look like one of the best teams in the country. Then, at times, we'll lose focus and [be] lackadaisical and not give that effort. One thing leads to another, it's a trickle-down effect, and then we look like an average team around the country."
Fortunately, the wins against Villanova and Pittsburgh — in the wake of Villanova's big, big win at Syracuse Saturday — continue to look better. They're maturing stocks that will be cashed in on Selection Sunday, almost certainly assuring Tennessee will earn a bid, lest they completely fall off the cliff in the respectable SEC East.
"Those were big, big wins for us," Goins said of the Ws against Pitt and 'Nova. "We let this one slip away. We got those Big East wins, and I really appreciate those Big East wins, and I'm really happy for my ball club when we won those games. Now, it's just a sense that I know how we can play — with the best of the best."
Pearl now goes back on the shelf for four more games, missing road tilts against Mississippi and Auburn that are sandwich by home games against LSU and Alabama. Pearl returns for a big one: Feb. 8 at Kentucky. But despite his absence, he's hammering home the same message—his suspension affects him on a personal level significantly more than it affects how his team plays without him during games.
"It was fun to be in a game for a while and to some effect on the game," Pearl said. "Tomorrow, I've got (preparation for) LSU and Ole Miss all day. Nothing will be different."
Photo: AP