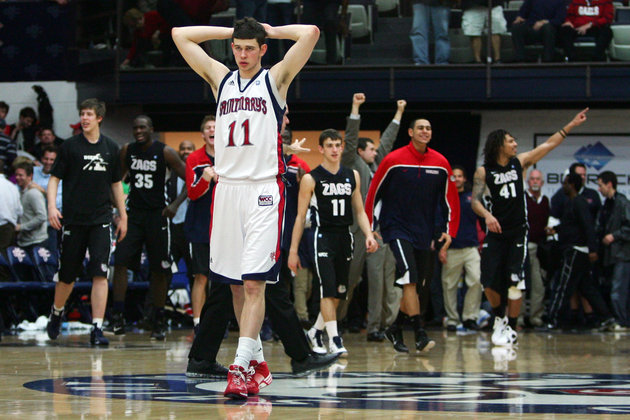 Posted by Matt Norlander
Though they've now traded wins in each other's gyms, it's hard to overstate how important last night's victory was for Gonzaga and how detrimental the loss was for Saint Mary's.
Huge game. Huge, huge game.
The Bulldogs got it to overtime, where they won,
89-85.
If you happened to be up at 1:30 a.m. ET (like I was; sleep? Nah, I'm good), you caught a great fight that, truthfully, Saint Mary's should have won. But good on Gonzaga to grit out this W. We'll get to more on Mark Few's team in just a second.
I'd like to interrogate the Gaels, who've now lost three in a row and seen their once-likely at-large profile get set aflame. First it was the
terrible
loss to San Diego last Wednesday, then Utah State came in and tattooed SMC for the BracketBusters game last weekend. Though its record is 22-7, this is a 20-7 team in the eyes of the Selection Committee, as early-season wins over non-D-I opponents College of Idaho and Point Loma Nazarene (sounds like a place were lives were lost in a war) do not count toward the Gaels' postseason profile.
Crossing out its road win over Gonzaga on Jan. 27 with a home loss to the Bulldogs last night, you now have to search pretty hard on the Gaels' resume for quality wins. St. John's is one to keep in your pocket. After that, 18-10 Long Beach State or ... yeah, that's it. In recent years, Saint Mary's has been able to clutch on to a few nice wins and garner good standing with the Selection Committee. Last season it was San Diego State and Utah State, plus a good showing in the WCC tournament. In 2008, Drake, Oregon, Gonzaga and San Diego were enough.
Now, 2009, that's when SMC didn't get a bid, and it had some controversy because the team went 26-6. But three of those losses came to Gonzaga. We could have a repeat of that "snub" type of season this year, though don't expect as much consternation if the Gaels don't get in.
As for Gonzaga, it's on pace to win another West Coast Conference regular-season title. Remarkable this season, because Gonzaga's looked bad, inept and as out of sorts as I can ever remember a Mark Few team being. It's 9-3 in the conference, and I don't know how good this team is. A first-round loss as an 11-seed is all too possible. But barring another bad loss or two, Gonzaga's probably going to get in now.
The Zags can claim Marquette, Baylor, Xavier and Oklahoma State as victims. It's not incredible, but it's better than a number of teams still fighting. Avoiding the Saint Mary's sweep was so vital to this team. Now, win out the final two games of the season against San Diego and Cal State Bakersfield, and you'll get a ticket, Gonzaga.
Photo: US PRESSWIRE