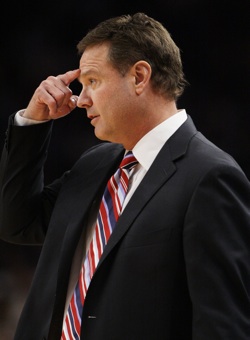 So these are the Big 12 favorites, eh? Kansas and Baylor?
If so, the conference might be worse shape than thought heading into the season.
Kansas competed with Kentucky admirably for a half, but the talent gap between the two teams was just eye opening. It's one of the main reasons the Jayhawks were overrated in the preseason, but the disparity between the two rosters was even bigger than originally thought. Jeff Withey played fairly well, and Bill Self had his guys playing with energy. However, outside of Tyshawn Taylor and Thomas Robinson, the Jayhawks really couldn't compete in the second half. Robinson went up against double- and triple-teams the entire game, and simply didn't have anyone to take the pressure off of him besides Taylor. The Jayhawks will get better as the season goes on, but they're certainly not a Sweet 16-caliber team right now.
Baylor beat San Diego State by 10 on Tuesday, but I'm still not sold on the Bears' point guard play and ability to make smart decisions when it counts. They turned the ball over 21 times. Pierre Jackson gives them a better chance to win than A.J. Walton, but is he the answer? California transfer Gary Franklin becomes eligible at the semester break, but he's not a pure point guard. Right now, chemistry isn't an issue. Anthony Jones, Quincy Acy and Quincy Miller are all getting starter's minutes, but what will happen once Perry Jones III returns from suspension and J'Mison Morgan gets back from injury. Baylor is supremely talented and could hang with anyone if it gets consistent point guard play and plays within itself. That remains to be seen, though.
Texas A&M could be a candidate to win the league, especially once Khris Middleton returns. But are the Aggies an Elite Eight or Final Four threat? Unlikely. They're a really solid team. But I'm not sure they're explosive enough.
Missouri looks OK so far, but the Tigers have no inside depth and far too inconsistent away from home.
Texas can clearly put up points, as evidenced by the 100 it dropped on Rhode Island on Tuesday. Defense is a huge concern, however, as is consistent frontcourt production.
There might not be an Elite Eight-caliber team in this group. As Mike Miller of NBCSports.com pointed out, a 12-6 conference record might win the Big 12. It will make for good theater during February, but that won't mean the winner will be a threat to make a deep run in March.
The best hope for a title contender from the conference is Baylor. It's hard to trust the Bears, though.
We could be headed for a (very) down year in the Big 12.
Photo: AP