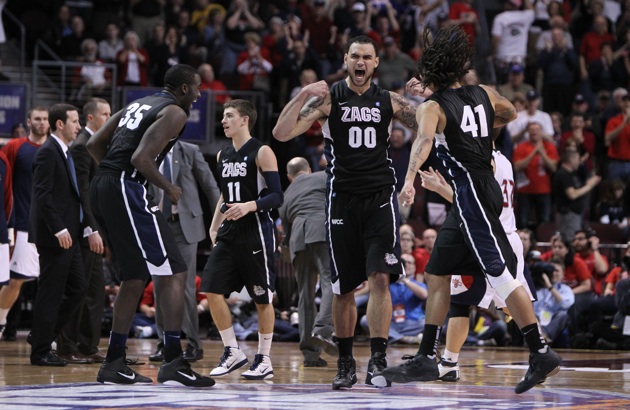 Posted by Jeff Borzello
Besides picking a champion and the Final Four, the most common question concerning the NCAA tournament brackets are Cinderellas and sleepers in the double-digit seeds. While the 13 seeds might be the strongest ever, many of the best mid-major teams received difficult draws.
Belmont has a disciplined opponent in Wisconsin, which won't rattle or turn the ball over; Oakland drew Texas, which can match up with Keith Benson on the inside; Louisville shoots too well for Morehead State; and Kentucky will be able to play in the half-court with Princeton. For the No. 12 seeds, Vanderbilt has the defensive personnel to guard Richmond, while Kansas State should be prepared for Utah State.
For upsets, though, check out the No. 11 seed line. It's not far-fetched to think that all four will advance into the round of 32.
Marquette: The Golden Eagles were up and down all season, but they proved time and time again that they are capable of beating high-quality teams. Against Xavier, Marquette has the personnel to come out on top. Jimmy Butler and Jae Crowder are match-up nightmares in the frontcourt, as Xavier's big men, Kenny Frease and Jamel McLean, will be drawn away from the rim. They can't compete with Butler and Crowder on the perimeter. Tu Holloway is capable of carrying the Musketeers, but Marquette has the size and length on the perimeter to give him problems.
Missouri: I actually envision the Tigers reaching the Sweet 16. Sure, they were inconsistent during Big 12 play and were awful away from Columbia, but hear me out. Missouri runs the "Fastest 40 Minutes," which is difficult to prepare for on short notice, but is beatable when you see it over and over again. The Tigers had a great non-conference season, but struggled within the conference. Big 12 opponents knew what to expect. Cincinnati will have trouble with Missouri's speed and athleticism, while a tired Connecticut team that has struggled against defensive pressure all season is waiting in the second round.
USC/VCU: While I think USC will beat VCU, both teams are more than capable of knocking off Georgetown. USC gets great frontcourt production from Nikola Vucevic and Alex Stepheson, which will make life difficult for the Hoyas in the paint. Marcus Simmons is a lockdown defender who can slow down Austin Freeman. VCU plays an aggressive brand of defense that relies on pressure and turnovers; without a healthy Chris Wright, the Hoyas won't be able to handle the Rams. If Wright is back to 100 percent, though, Georgetown can make a deep run. It's doubtful, though.
Gonzaga: The Bulldogs were left for dead in early February, when they were 15-9 and struggling mightily. Since then, they have rattled off nine straight wins and get pitted against a St. John's team not playing its best basketball of the season. The Red Storm lost two their final four games, and barely escaped against Rutgers. Moreover, they lost D.J. Kennedy for the season with an injury. Gonzaga struggles to defend the perimeter, but the Red Storm have a scant few players who can knock down the three – and Kennedy was one of them. St. John's struggles on the glass, while Gonzaga has Elias Harris, Robert Sacre and co. down low. If Demetri Goodson and Marquise Carter take care of the ball against the pressure, Gonzaga should win.
Photo: US Presswire