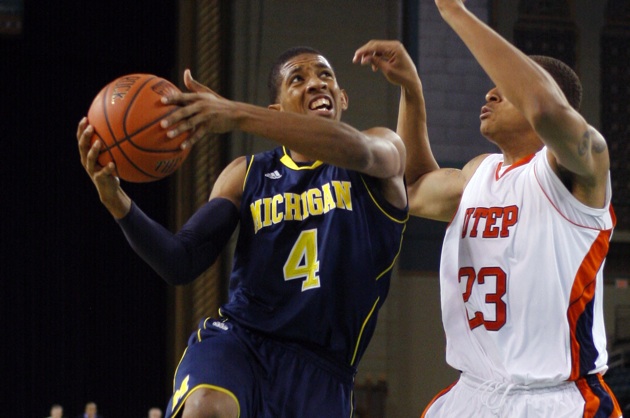 Posted by Jeff Borzello
If Darius Morris' runner in the lane against Duke wasn't his final shot in a Michigan uniform, expect the Wolverines to be back – and better – next season.
After Michigan's great comeback against Duke, in which the Wolverines went on a 15-4 run in the final six minutes to give themselves a chance to win, the last thing on its mind is next season. However, against the Blue Devils, Michigan showed why it will be such a highly-touted team to begin next season.
To start, the Wolverines play a 1-3-1 zone defense that makes them difficult to beat on a consistent basis. John Beilein has players that are willing to defend and execute the zone to perfection.
What should have Michigan fans excited for next season is the fact that there is not a single senior on the roster. This season, Morris developed into one of the nation's best point guards, showing tremendous passing ability and the potential to be a go-to scorer. Tim Hardaway Jr. is a bonafide second scorer, while Jordan Morgan was a pleasant surprise down low. Morgan runs the floor and is only getting better. Zach Novak, Stu Douglass and Matt Vogrich are good perimeter shooters.
Beilein is also bringing into two more perimeter players next season, led by undersized scorer Carlton Brundidge. Brundidge has unlimited range and the ability to create his own shot. Trey Burke is another player who can score, but he is also capable of running the offensive and finding players.
The key to next season could be Evan Smotrycz. He averaged only six points per game this season, but he showed flashes of his potential at various points this season. Smotrycz went for 13 points against Duke and scored in double-figures in eight other games. He is an inside-outside player who creates match-up problems with his skill set.
The primary weaknesses for Michigan this season were inside depth and lack of players who can create their own shots. Players like Jon Horford, who had an impressive finish-and-foul against Duke, need to step up down low, while the additions of Brundidge and Burke will help the lack of creativity offensively.
Next year's team will have guards who attack, shooters who can spread the floor, frontcourt production and a consistent defense. It's the perfect recipe for a successful John Beilein team.
If Morris returns to build off a tremendous sophomore season, don't be surprised to see Michigan go a couple of rounds further in next year's NCAA tournament.
Photo: US Presswire