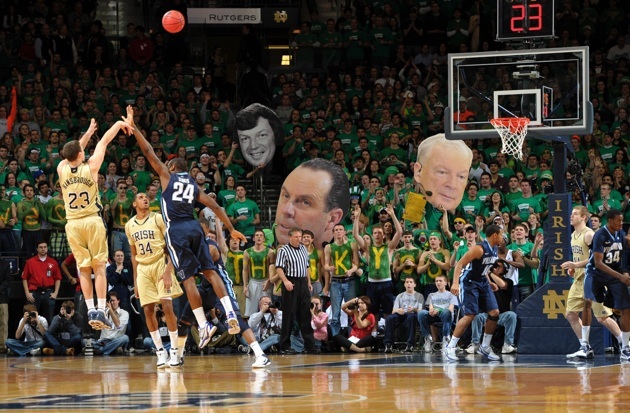 Posted by Jeff Borzello
Not a bad way to start the final week of the regular season. A top-10 team goes down at home, a top-10 team sets records from 3-point range and another team likely locks up an NCAA bid. Oh, and by the way, welcome to March. Follow me on Twitter: @jeffborzello
Top Performer: Another night, another Big East star states his case for player of the year. Last night, it was Notre Dame's Ben Hansbrough. Hansbrough had a tremendous night, finishing with 30 points, 10 assists and five steals in a 93-72 win over Villanova. He went 7-for-10 from 3-point land, including 4-for-6 in the first half.
Filling it up: Hansbrough's teammate, Tim Abromaitis, didn't do too shabby himself. The fellow senior had nine 3-pointers en route to 30 points, four rebounds and four assists in the blowout win over Villanova. He was 10-for-17 overall from the field. The nine 3-pointers he hit were one shy of the school record, held by Kyle McAlarney.
Numbers Don't Lie, Notre Dame Edition:
With 20 3-pointers, Notre Dame set a new school record for most 3-pointers made in a game.
Ben Hansbrough and Tim Abromaitis became the fifth set of teammates in the last two years to each score at least 30 points in a game.
Hansbrough was the second player from a BCS conference in the last 15 years to register 30 points, 10 assists and five steals in one game.
The 20 3-pointers tied West Virginia's January 2006 performance for the most made 3-pointers in the last 15 years in the Big East.
Notre Dame shot 20-for-32 from 3-point range, and just 9-for-20 from inside the arc.
The last time a team made at least 20 3-pointers and fewer than 10 2-pointers was Northwestern, in December 2009 against North Carolina A&T.
The Last BCS team to hit 20 3-pointers in a conference game while hitting fewer than 10 2-pointers was USC in January 2000 against Oregon State.
Stat-Sheet Stuffer: Chicago State's Christian Wall went into last night averaging 5.6 points and 1.6 rebounds. Those numbers are going to rise quite a bit, after the 6-foot-1 guard dropped 27 points on four 3-pointers, and grabbed six rebounds in a 74-52 loss to North Dakota. Wall also nabbed two steals on the defensive end of the floor.
Stepping Up: Kansas State had won six of seven heading into last night, but the win over Texas cemented a bid to the NCAA Tournament. Guard Rodney McGruder could end up being a key down the stretch, especially after his 22-point performance against the Longhorns. He nailed four 3-pointers and grabbed five rebounds. McGruder is averaging 15.8 points in his last four games.
In a Losing Effort: Texas is struggling right now, but it was certainly not due to Tristan Thompson last night. The freshman forward put up 26 points and 10 rebounds in a 75-70 loss to Kansas State. Thompson was 9-for-14 from the field and 8-for-13 from the free-throw line, grabbing six offensive rebounds, dishing out three assists and blocking three shots.
Round of Applause: With Morgan State's road loss at North Carolina A&T last night, Bethune-Cookman clinched the regular-season title in the MEAC. The Wildcats have won six in a row to get to 12-3, while Morgan State dropped to 10-5 in the league with back-to-back losses. The Bears are locked in a three-way tie with Hampton and Coppin State for second place.
Set the DVR: There's plenty of interesting games on the schedule tonight. The marquee game is Vanderbilt at Kentucky – an SEC battle between two teams many people can't quite figure out yet. Then we get to the must-win bubble games, with Penn State hosting Ohio State, Alabama traveling to Florida, Nebraska playing Missouri and Baylor going to Oklahoma State. There is also Illinois at Purdue – the Boilermakers are looking to stay in the hunt for a No. 1 seed and Big Ten title, while Illinois would lock up a bid with a win. The Big South and Horizon tournaments also get underway.
Photo: US Presswire