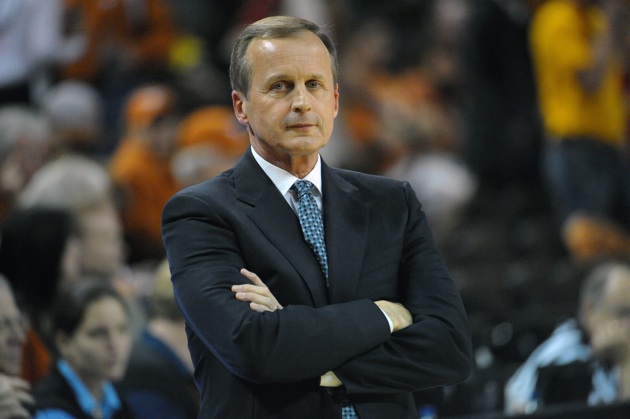 Posted by Jeff Borzello
It may still feel like the Final Four just ended, but for most schools, the offseason is now more than two months old. With that in mind, all of us at the blog are going to take this week to give you what we're calling "Conference Catch-Ups." The motive is to recap the biggest storylines in college basketball's offseason so far, plus keep your appetite whetted in what is the longest offseason in major American sports.

The Big Stories
The Big 12 is now the Big 10 . . . kind of: The Big 12 will have a new look next season, going from 12 teams to 10 as Colorado heads to the Pac-12 and Nebraska goes to the Big Ten. It won't be too big of a loss for the conference, quality-wise, as neither team was a consistent NCAA tournament contender in recent years. Both teams were in the mix for a bid last season, but fell short down the stretch. Without the two teams, though, the divisional scheduling in which the six teams from the "North" play each other twice and the same in the "South."
Kansas needs to reload: The Jayhawks are certainly not the same team they were in late March when they lost in the Elite Eight. Twins Marcus and Markieff Morris left early for the NBA, as did freshman guard Josh Selby. In addition, Brady Morningstar, Tyrel Reed and Mario Little were all seniors. Bill Self does return Tyshawn Taylor on the perimeter and Thomas Robinson down low, but a host of freshmen and inconsistent returnees need to step up immediately.
Turnover in Texas: The Lonestar State will be very different next season. It starts in Texas, where Rick Barnes lost nearly everyone from last year's NCAA tournament team. Three players left early for the NBA draft, while five players used up their eligibility. Texas A&M will have a new coach in former Murray State head man Billy Kennedy, who replaces Mark Turgeon. Turgeon went east to Maryland. At Texas Tech, Billy Gillispie enters the fold, taking over for Pat Knight after several disappointing seasons in Lubbock. Baylor returns plenty of talent, but needs to replace LaceDarius Dunn, the conference's all-time leading scorer.
Coaching carousel hits hard: Texas Tech and Texas A&M weren't the only two schools to undergo coaching changes. At Missouri, Mike Anderson left with the highest winning percentage in school history to coach at Arkansas. In his place, the Tigers brought in Miami (Fl.) head coach Frank Haith. It was a move that raised eyebrows across the college basketball world. Oklahoma also made a move, getting rid of Jeff Capel and replacing him with UNLV head coach Lon Kruger.
Transfer central: Iowa State is going to be a tremendous case study next season. The Cyclones struggled mightily last season, fighting their way to three Big 12 wins. Next year will be different, though. Royce White (Minnesota), Chris Allen (Michigan State), Chris Babb (Penn State) and Anthony Booker (Southern Illinois) are all eligible after sitting out. Fred Hoiberg has plenty of talent in those five; will they be able to coexist?
The Great Unknown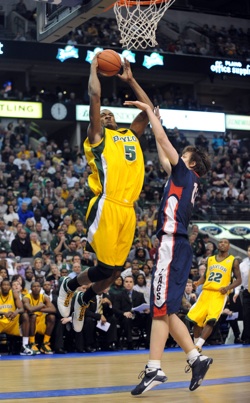 How will Baylor play together? The Bears have some of the best talent in the country, with future lottery picks Perry Jones and incoming freshman Quincy Miller anchoring the frontcourt. Quincy Acy is another extremely athletic frontcourt player, while Anthony Jones brings length and versatility. The perimeter should be bolstered by California transfer Gary Franklin, JC transfer Pierre Jackson and freshman Deuce Bello. On paper, Scott Drew could have the most talent in the Big 12. With that said, Drew also had a loaded roster last season – and didn't even reach the postseason. If everything comes together, Baylor has the potential to make a deep run in March. If not, the Bears can implode again.
NBA Draft report
The NBA draft only hit two teams in the Big 12, but it decimated both squads. Kansas lost twins Marcus and Markieff Morris, as well as freshman Josh Selby. All three could be first-round picks, but the Morris twins would have anchored another deep run had they returned. Texas went from a top-five team to a borderline NCAA tournament team when Cory Joseph, Tristan Thompson and Jordan Hamilton left for the NBA.
The biggest surprise return was easily Baylor's Perry Jones. Jones would have been a lottery pick this season and is also suspended for the first five games in the fall. No one would have batted an eye had Jones entered his name into the draft pool. Alas, he decided to return to Waco. Missouri received good news when Kim English and Laurence Bowers withdrew their names, while Texas A&M was also happy when David Loubeau returned to College Station.
Transference
Coming
- Will Clyburn (from Utah) to Iowa State
- Amath M'Baye (from Wyoming) to Oklahoma
Going
- Stargell Love (from Baylor)
- Dragan Sekelja (from Baylor) to Florida Atlantic
- Calvin Godfrey (from Iowa State) – dismissed
- Eric McKnight (from Iowa State)
- Royce Woolridge (from Kansas)
- Nick Russell (from Kansas State)
- Juevol Myles (from Kansas State)
- Nick Thompson (from Oklahoma)
- Roger Franklin (from Oklahoma State) to North Texas
- Ray Penn (from Oklahoma State)
- Jarred Shaw (from Oklahoma State) to Utah State
My commentary in 20 words or less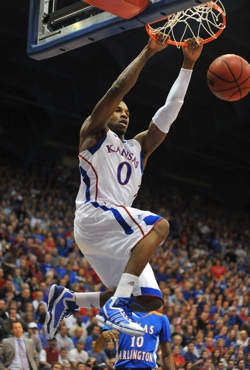 Baylor: The Bears have the most talent in the league; will everyone mesh and play together? Or will they collapse?
Iowa State: Might be the most interesting team in the league – five transfers are eligible. The talent is there.
Kansas: After losing seven players from last season, Bill Self has work to do. Thomas Robinson is ready to take the next step.
Kansas State: They lose the heart and soul of the program in Jacob Pullen. Frank Martin faces a rebuilding year.
Missouri: Mike Anderson didn't leave the cupboard bare, but it's not clear how the players will adapt to Frank Haith's playing style.
Oklahoma: Jeff Capel is gone, but the Sooners have a lot of young pieces. Lon Kruger needs to get consistency from them.
Oklahoma State: There's a chance freshman LeBryan Nash leads the conference in scoring next season.
Texas: Very little returns from last season; Myck Kabongo leads a deep group of talented freshmen that need to make an impact.
Texas A&M: The Aggies are being overlooked as a conference title contender. Khris Middleton is vastly underrated nationally.
Texas Tech: Completely unpredictable at this point. Red Raiders have a new coach and nine fresh faces entering the fold.
Photos: US Presswire