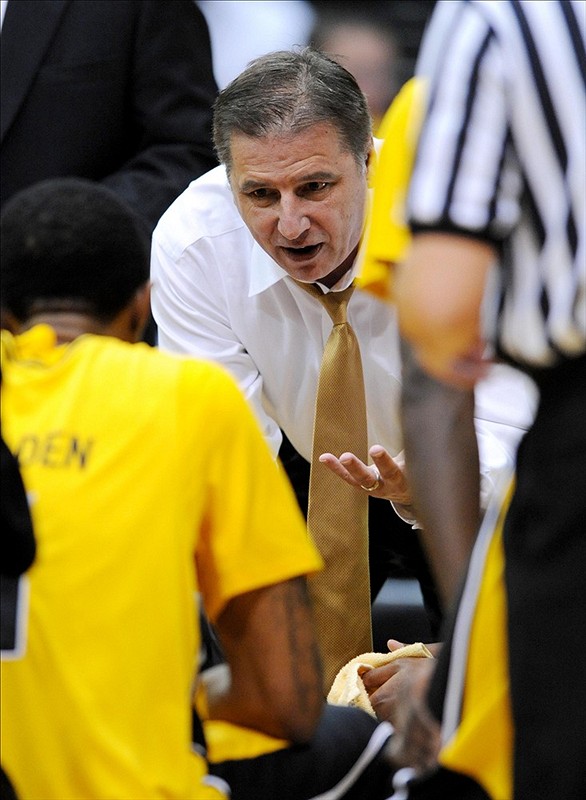 By Matt Norlander
Many times, with true contrition and resolve, you can make it again in America after a public downfall. Just look at Southern Miss, who
has given Larry Eustachy a three-year contract extension
, per ESPN.com's Andy Katz. Terms of the deal have not yet been announced.
The Golden Eagles went 22-10 last year, and overall, Eustachy has a record of 117-104, with three 20-win seasons. He's coached there since 2005. He has yet to take the team to the NCAA tournament. The only postseason berth came in the lowly regarded CIT, in 2010.
Eustachy left Iowa State in 2003 after pictures of him surfaced drinking with co-eds. It was truly one of the first instances of the Internet changing the way sports figures could act in public. Many lessons were learned, and bad (stupid) behavior still gets caught on camera in today's era, but less frequently than it did during the halcyon days of half-witted behavior (2004-2007ish). When Eustachy was caught, it was truly a much more innocent time.
He became one of the first sports figures to lose his job over something that became known via the Internet. It was bad for Iowa State, but so much worse for Eustachy, who came to grips with the fact
he was an alcoholic
. Nevertheless, his coaching was so valued, he only had to wait two years to land on his feet in D-I again. He stuck to rehab, and Southern Miss hasn't looked back since.
Eustachy had one year left on his deal, but with the way contracts work these days, that might as well be no time at all. The Golden Eagles will most likely run atop the Conference USA with Memphis, UAB and Marshall this season. That league's not likely to produce four NCAA tournament teams, but many see that quadrant of clubs to be the ones with the best chance at being on the bubble come early February.
There's another possible bit of big news coming for Southern Miss. From Katz's report:
In addition, a source said a decision was due soon on reinstating Kentucky transfer guard Darnell Dodson by mid-year. Dodson had been booted off the Wildcats team after the 2009-10 season by coach John Calipari, who did not give a reason. Dodson transferred to Southern Miss and was enrolled this past January, but in late April, Eustachy announced Dodson had been dismissed from the Golden Eagles as well, and also did not give a reason.
If Dodson's name rings a bell, it should sound an alarm instead.
He was initially kicked off the team
after being charged with stealing from a frat house at Southern Miss' campus in April. That was never officially the reason, but it was definitely the reason.
Seems Dodson -- who definitely has the talent to earn a lot of minutes in C-USA -- may get yet one more shot. What was that I said about America earlier?
Photo: US PRESSWIRE