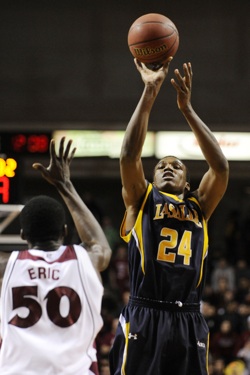 Posted by Jeff Borzello
West Virginia missed out on Aaric Murray when he made his college choice out of high school, but Bob Huggins made up for it this weekend.
"I'm the newest member of the west Virginia team!" Murray tweeted early Saturday morning at around 3:30 a.m.
Murray was on the Morgantown campus this weekend, making his second visit after transferring from La Salle.
The 6-foot-10 Philadelphia big man had previously taken a trip to Oklahoma State, and was also considering Kansas.
He averaged 15.2 points and 7.7 rebounds during his sophomore season with the Explorers, showing a deft inside-outside game that made him a match-up problem for opponents.
Murray will sit out next season per NCAA transfer regulations, but will join a Mountaineers team in 2012 that is scheduled to lose just one player from the upcoming season.
He should combine with Deniz Kilicli to form a dominant inside tandem. If Kevin Jones withdraws from the NBA draft and spends another two seasons in Morgantown, Huggins could have a tremendous frontcourt on his hands.
Photo: US Presswire