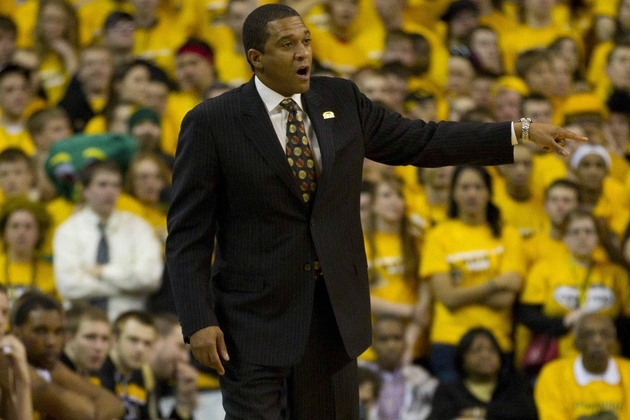 Posted by Eric Angevine


Could a Horizon League coach end up making the leap to leading the Miami Hurricanes?
No, not that one. Brad Stevens would actually be taking a step down if he headed to Coral Gables. The man who's on the radar in pastel paradise is the one who actually won the Horizon League's regular-season championship this year, and skunked Stevens' team twice in the process. Had he done it one more time on March 8 in the Horizon tourney final, this year's national runner-up would not have even made the Big Dance, in all likelihood.
I'm talking about the head coach of the Wisconsin-Milwaukee Panthers, who is
a candidate for the Miami job
, according to
a tweet from the always-accurate Jeff Goodman
. "Milwaukee coach Rob Jeter, according to sources, meeting with new Miami AD Shawn Eichorst tonight in Wisconsin," Goodman tweeted the evening of April 14.
Jeter's name might not be high on anyone's wish list, so why did he get the preliminary call? Because
Miami's new AD is Shawn Eichorst
, who got a chance to observe Jeter up close when he was deputy AD at Wisconsin. Jeter is a branch from the
Bo Ryan coaching tree
, so he more or less starts from a position of underrated efficiency just like his mentor.
Reviewing Jeter's work at UWM, it's tough to determine exactly what he'll bring to the job if he's offered the Miami position. Jeter's Panther teams haven't been particularly consistent at anything over the past few years, though defensive rebounding often pops up as a positive in looking at the numbers.
Jeter had his best team in 2005-06
, his first season at the school after Bruce Pearl left. That squad made the NCAA tournament, beat Oklahoma and lost to Florida in the second round. No UWM team since has made it back to the Big Dance. This season, Jeter's reward for winning the Horizon was automatic entry into the postseason NIT, where his team promptly lost to Northwestern by nine points.
None of that makes Jeter a bad coach. It's not easy gaining ground in the shadow of the mighty Butler Bulldogs, after all. But it will make Jeter a tough sell to the fan base, should he be offered the job. Then again, it can't be as tough a sell as one more year of Haith, which was an onerous proposition to most 'Cane fans.
If you want recent ACC history to back up why this might work (based completely on unrelated circumstantial evidence, but still), look at former Wright State head coach Brad Brownell, who had a pretty sharp first season at Clemson.
Jeter was a candidate for the Bradley University job when it was open last month, but
withdrew from consideration to stay at UWM
. If Miami, and a familiar boss, come calling, he may find the combination too sweet to turn down.
Photo: US Presswire