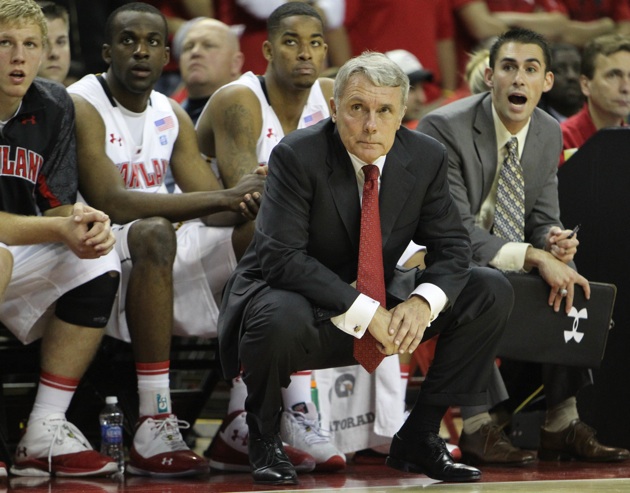 By Matt Norlander
Gary Williams isn't leaving Maryland just yet.
The Hall of Fame coach retired from the school -- surprisingly -- in early May, but he'll remain on board with the program in an advisory role,
according to Terrapins Insider
. And this part-time position pays prettay, prettay ... prettay well. How's 400 grand a year for five years sound? After all Williams did to put Maryland basketball back on the map and in the national conversation, he earned it.
Williams,
who will have the court named after him
this upcoming season, will be an assistant to the athletic director, Ken Anderson. It's an ironic situation, given the fact Williams often clashed with his former AD, Debbie Yow, who is now in that position at North Carolina State. Williams' new gig wasn't always in the cards. Per Terrapins Insider, this arrangement was sparked once Williams was firm in his decision to leave coaching with a 461-452 lifetime record.
Under terms of his five-year employment contract, released in response to an open-records request, Williams will help Maryland Athletic Director Kevin Anderson with fundraising and represent the university in speaking engagements "from time to time as reasonably requested" by Anderson, the document states.

According to his new employment agreement, Williams officially retired as coach July 1, the same day his job as special assistant to Anderson began. The contract runs through June 30, 2016. If Williams chooses to resign the post before then, he will be paid $200,000 annually until the contact expires on June 30, 2016.
Such sweet terms! Williams can bail and still rake in serious coin. It's clear the heart can't ever leave on first attempt, and so Williams' attachment to his alma mater makes sense. He'll be as good as anyone in the sports realm when it comes to fundraising. The school needs him right now; there's been a ot of overhaul in the athletic offices in 2011, considering the football and basketball programs have hired new coaches, the university brought in a new president and a new AD.
My lingering concern: the Maryland uniforms. If Williams has any pull, their won't be an adjustment made to the basketball team's threads. We've already seen the monstrosity that's overtaken Terps football.
Photo: AP